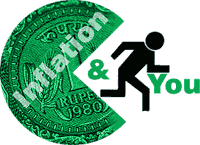 Even as India puts up an impressive economic performance that is the toast of the world, let us not lose sight of the fact that there is another index that is slowly creeping up as well -- cost of living, commonly known as inflation.
In the face of weekly bald statistics that say inflation is going up, rediff.com decided to find out from ordinary people across the country how their lives have been affected by the price rise. This is the third in the series:
Earlier: 'We cannot stop buying' | 'Life has never been so bad'
Name: Ghulam Qadir Akhoon
Occupation: Carpet Weaver
Location: Downtown Srinagar
For 65-year-old Ghulam Qadir Akhoon, India's 9.5 per cent growth rate seems to matter little.
Life has become tougher for this local carpet weaver who is becoming a living example of incomes not keeping pace with inflation.
"Five years before I used to get Rs 300 per sq feet for the carpet I weave. That time a kilogram of mutton would cost Rs 75. Today I am paid the same amount while the cost of mutton has soared to Rs 180 per kg," said Akhoon, as he busied himself smoking his hookah.
Mutton for lunch and dinner is not a matter of life and death for this local artisan but even fresh vegetables have moved beyond his range.
"With the Rs 4,500 a month that I make today even fresh vegetables daily is a luxury now," he said as he works on the roller beam loom, weaving coloured yarns into traditional geometrical and floral designs.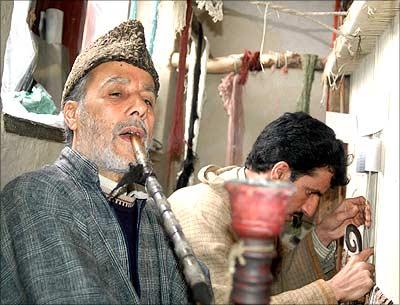 "During the winter months the cost of vegetables shoots up in the valley because local production goes down," he said.
Akhoon and four others of his family now virtually live a hand to mouth existence.
"I don't own any cultivable land and at my age cannot pick up any other skill to make a better living. Dedicating my entire life to carpet making has made my life a bed of thorns."
"I could never afford better schools for my children nor provide them all the facilities."
Akloon and his family live in a downtown Safakadal dwelling which can hardly be called a home.
His other family members hold him in high respect because of the hard work he has been putting in but are distraught because he chose the wrong profession.
Ghulam Qadir Akhoon stands as an archetypal example of the misery of thousands of locals, who are hit hard by inflation and baffled by official claims of a high growth rate.
"Day in and day out I hear government claims of making giant strides in economic development but such claims have proved to be hollow for citizens like me who find each passing day difficult to live."
Ironically for artisans like Akhoon, there are no support prices or industrial incentives which could fill the widening gap between their income and inflation.
While modern development has failed to mean anything to him, age old practices like buying vegetables cheap in the summer months and drying those for use during the winter have stood him in good stead.
"I cannot afford fresh vegetables as the cost is beyond my reach. I buy vegetables when they come aplenty and cheap in summer. We dry them and preserve them for use during the winter months."
"But the recent hike in the cost of fresh vegetables is worrying me as the coming summer might be even tougher," Akhoon said.
He feels that the fruits of prosperity and development are an exclusive privilege of the rich.
"The world is only for the rich. The riches of affluent are directly linked to my growing poverty. I see rich people making bigger and better houses while my ancestral home is falling brick by brick as I cannot afford to repair it."
"Raw material costs have also increased in recent years but the people who buy my carpets refuse to increase my compensation."
Text: Mukhtar Ahmad in Srinagar | Photograph: Omar Ganie
How has the rise in prices affected your life? Send us your story and photograph here.