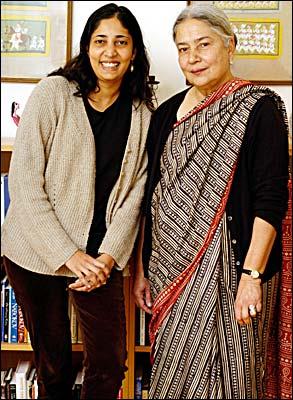 Thrice -- in 1980 for Clear Light of Day; in 1984 for In Custody, and in 1999 for Fasting, Feasting -- novelist Anita Desai made it as far as the nominees list for the Man Booker Prize.
On each occasion, she lost out -- to William Golding in 1980 (Rites of Passage); Anita Brookner in 1984 (Hotel du Lac) and J M Coetzee in 1999 (Disgrace).
Seven years after her last nomination, the 69-year-old author is on the sidelines cheering, as daughter Kiran, 35, becomes the youngest woman ever to win the coveted Booker.
'My mother told me never to be a writer'
In one of Life's delicious ironies, it was Anita who advised daughter Kiran to never become a writer, because she was well aware of the heartbreaks that could lie in store. Kiran, who jokes about that advice today, is quick to add that her mother had a special, pervasive influence on her writing.
Growing up, Kiran says, she was influenced by her mother's discussions of writing and literature; in a more practical sense, she was able to consult her mother while writing her breakout novel, Hullabaloo in a Guava Orchard and the Booker-winning The Inheritance of Loss.
Anita Desai, born Anita Mazumdar to a German mother and Bengali father, has divided her time between Mussoorie, Delhi, Mumbai, England, Mexico City and Boston. Kiran, likewise, has crisscrossed continents -- she was educated in Mumbai and England, and has at various times made her home in Massachusetts, Vermont, Virginia and New York.
This cosmopolitanism infuses their writing, which is rich in material mined from individual biography. Thus, Anita Desai's novels are heavily populated with characters drawn from the Anglicized Indian bourgeoisie; she drew on the German half of her heritage in the 1988 novel Baumgartner's Bombay.
Similarly, Kiran Desai's Inheritance weaves the story of the teenage Indian girl Sai, living with her Cambridge-educated England-loving grandfather, a retired judge, in Kalimpong. Peopling Sai's story are Gyan, the math tutor with whom she becomes involved romantically; and Biju, the son of her grandfather's cook who ends up in the shadowy world of illegal immigrants in the US.
Binding the characters -- with a glue that binds mother and daughter, too -- are a shared historical legacy. To this, Kiran adds an undercurrent of helplessness, of frustration has no leavening grace of redemption.
Photograph: Paresh Gandhi
To buy Hullabaloo in the Guava Orchard or The Inheritance of Loss right here online click on either title.