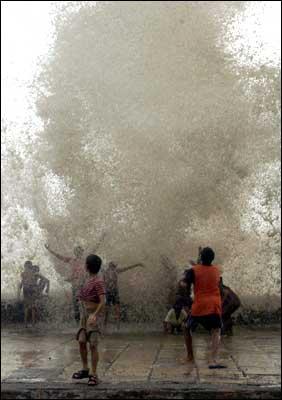 Thousands of commuters in Mumbai were struck in traffic jams or in unmoving crowded trains after heavy rains lashed the city on Wednesday evening.
The sudden heavy downpour since Wednesday afternoon resulted in waterlogging on railway tracks and low lying areas of the city.
The heavy rainfall reminded people of terrible Tuesday on July 26, 2005 when hundreds of people lost their lives because of heavy rainfall.
The Congress-ruled state government and the Shiv Sena-ruled Brihanmumbai Municipal Corporation had made tall promises that Mumbaikars would not have to face any problems this year but those words sound like empty promises on the very first day.
Both the Central and Western railways on which 6.5 million people travel every day were running nearly 20 minutes late because of water logging.
There were reports of a boy drowning in the sea off the Gateway of India.
Image: Children play as waves lash the Worli sea face in Mumbai on Wednesday.
Photograph: Arun Patil