At the Central Board of Secondary Examination's class XII board exams, DAV Boys Senior Secondary School in Gopalapuram, Chennai, has created history.
All of its students passed first class with distinction; 73.3 per cent of the students secured more than 90 per cent marks; 90 students scored more than 95 per cent; 20 students scored a full 100 per cent in various subjects.
The subject averages of the school ranged from 88 per cent to 99 per cent.
In a subject like engineering drawing, the average was 99.5 per cent.
In maths, physics and chemistry, it was between 91 per cent and 94 per cent.
Two students scored 487, two scored 486 and two others scored 484 out of a total of 500.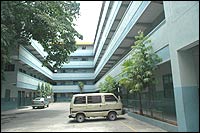 The lowest percentage in the school was 77 per cent.
For the last 10 years, students from this school have been invited by the Prime Minister's Office to witness the Republic Day parade because of their excellent performances in the 10th and 12th CBSE board exams. The CBSE does not publish ranks; instead, top ranking students are invited to Delhi.
Image: DAV Boys, Gopalapuram
Last year, the school bagged 80 merit certificates from the CBSE, awarded to students who come in the top 0.1 per cent in each subject.
In the last 20 years, 250 students from this school have joined various Indian Institutes of Technology, on an average of 12 to 15 students joining the IITs every year.
The school also has the unique record of its students securing the all India 1st, 2nd, and 4th ranks in the same year.
In the recently announced All India Engineering Entrance Examination, DAV Gopalapuram bagged the state 2nd, 4th, 6th, 10th, 14th, 18th, 22nd and 24th ranks to get admission in the National Institute of Technology, Trichy (formerly known as the Regional Engineering College). Twenty DAV Gopalapuram students figured in the top 100.
Weekly magazine Outlook rates DAV Gopalapuram the best school in Tamil Nadu.
In the recently published CBSE class XII results, the Chennai region has topped among the five regions in India with 91.46 pass percentage and DAV Gopalapuram stands first in India.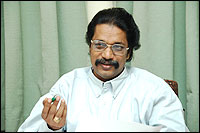 "We in this school believe in result oriented and personality development programs for our children. We will not compromise on the quality of the students," says Principal Dr C Satish, who has been with the school for 24 years.
"We as a team see to it that our students are capable of securing admission in the top colleges in the country and abroad," he adds.

Image: Principal Dr C Satish says the school does not compromise on the quality of students
The quality of the results naturally attracts good students to the school. Students are selected through an entrance examination in maths and science.
"The examination is so transparent that we publish the results and we take students only on merit," says Dr Satish.
He is of the opinion that CBSE students perform better in the all India examinations like AIEEE, BITS Pilani, and IIT Joint Entrance Exam than the state board students.
Dr Satish is all praise for the 15 minutes now given to the students to go through the question paper.
"It is a good move by the CBSE. It is a big de-stressing factor and students could go through all the questions leisurely," he says.
He is not in favour of Kerala's School Examination Board's decision to grade students in the board examinations -- without awarding 'pass' and 'fail' or marks percentage, or ranking.
"My personal view is, grading is an excellent way of looking at students' achievements but it will not work in a country like India because we have so many boards in various states and also at the central level," he says.
"How do you normalise the scoring? The competition level in our country is so high that even a 0.1 can make a difference. How will you give admission when there are 100 students with A grade?" he points out.
Topper Speak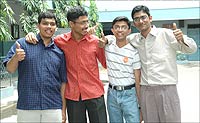 Atulya Yelleppeddi
Total score in CBSE class XII: 487
24th rank in the state in AIEEE
Ambition: To study electronics in IIT and do research in robotics
"I knew I had done well but I never expected to score such good marks. The result did come as a surprise to me! What helped was my IIT preparation and continuous preparation. It also depends on how well you handle tension and pressure. The 15 minutes given by the board did help me a lot because it gave you an idea about what to expect from the paper. So, there will not be any surprises once you start writing.
Image: (From left) Sundaresh, Srinivas, Atulya and Raghunandan are all smiles
N G Srinivas
CBSE class XII score: 486 out of 500 (100 out of 100 in Maths).
2nd rank in the state in AIEEE
Ambition: Wants to do research abroad
"I expected to score 475-plus. Frankly, I didn't expect 486. I think the way I presented the paper might have helped me. I think the guidance given by the teachers and the many number of exams we wrote did the trick. In the last six months, we have been writing one exam after another."
Srinivas has already secured admission to NIT, Trichy because of the AIEEE rank.
"I am waiting for the IIT-JEE results. My first priority, of course is IIT. I want to study electronics and later on do research in a country where the system is more flexible."
N Sundaresh
CBSE class XII score: 486 out of 500
10th rank in the state in AIEEE
Ambition: To start a company of his own
"I expected 480-plus. Our school topper's name is there on the board (displayed in the school foyer), and I wanted my name there! But I lost it by one mark. It had always been my dream. The number of exams we wrote in the school helped us a lot."
Raghunandan S
CBSE class XII score: 479 out of 500 (with 100 in Maths)
6th rank in the state in AIEEE
Ambition: To study at IIT
"I expected more than 480 but my English marks (88) pulled me down. It is the series of examinations in the school that helped me achieve this. Also, the coaching I undertook for IIT-JEE"
Raghunandan, who loves applied mathematics, has already secured admission to the Nanyang Technological University in Singapore, BITS-Pilani and NIT-Trichy; but his preference is IIT.
Photographs: Sreeram Selvaraj