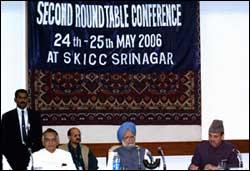 Prime Minister Manmohan Singh, while spelling out the agenda for the second round table conference being held at the Sher-e-Kashmir International Convention Centre, reminded terrorists that violence does not help anyone.
He emphasised that his government will concentrate on working towards a sound future for Jammu and Kashmir. To this end, the prime minister proposed a five-point programme to 'build a new Kashmir'.
Spelling out the agenda for the second round table Dr Singh asked the participants to concentrate on political institutions and how they can strengthen the centre-state relationship, security, human rights, good governance, economic future, restore public confidence and 'what institutional arrangements can bring people from both sides of the Line of Control closer to each other'.
He regretted that some elements did not want the state to progress. "There are some elements within the state who do not wish this dream to become a reality," he said.
Referring to Sunday's attack on the Youth Congress rally by two militants from across the LoC, Dr Singh said that 'their inhuman acts have cost many lives, destroyed many families'.
Such acts, Dr Singh said, strengthen the government's resolve to ensure that 'every resident of Jammu and Kashmir is protected from such terrorist acts and atrocities. The government is prepared to take every step towards achieving that'.
Dr Singh also emphasised that internal security continues to be an imperative concern of his government.
Earlier, at a speech at the Unified Command meeting, Dr Singh paid homage to those who lost their lives in terrorist violence, both citizens or men in uniform. 
However, the prime minister also cautioned that there would be zero tolerance in respect to custodial deaths. He asked the security forces to be humane in their approach but remain firmly in control of the situation.
He also expressed hope that the All Party Hurriyat Conference may join the conference at a later stage and share their views with other participants. The Hurriyat had decided to stay away from the conference. Of 41 parties invited to the conference, there are only 30 participants.
"I hope that at the appropriate time, they will also join the series of round table conferences so that they can share their views with all of us. I have held discussions with the leaders of other organisations who had earlier kept away from dialogue," he said, in his opening remarks.
Prime minister's media advisor Sanjaya Baru said 41 representatives from various political parties had been invited to take part in the second round table conference. However, only 30 turned up.

All Party Hurriyat Conference, Bharatiya Janata Party, Shabir Shah of Democratic Freedom party and couple others turned down the invitation. A two-minute silence was observed in the memory of those killed in the militant attacks.
"Besides the prime minister, Jammu and Kashmir Chief Minister Gulam Nabi Azad, former chief ministers Mufti Mohammad Sayeed and Dr Farooq Abdullah, and a representative from Ladakh also spoke on Wednesday evening," Baru said.
Meanwhile, several political parties in Jammu staged protests on Wednesday against the round table conference, accusing both the Centre and state government of being 'soft on separatists and militants'. 
The political parties, including the Kashmiri Pandit organisations and the Bharatiya Janata Party, shouted slogans and burnt effigies of United Progressive Alliance chairperson Sonia Gandhi and Chief Minister Ghulam Nabi Azad, calling the round table a 'failure'.
With PTI inputs