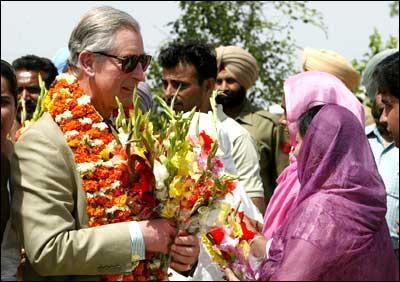 Prince Charles, heir to the British throne, and his wife, Camilla, began a six-day visit of India on Sunday.
This is his first visit to New Delhi with the Duchess of Cornwall.
The Prince and Ms Camilla met the English cricket team two days before they start a series of one-day encounters with the hosts.
When asked about how he felt being in India, he said, "I love coming to India. It is emotional," adding that it was the Indian people he found most exciting.
This a private visit and the royal couple will travel to Punjab and Haryana. Prince Charles will launch the 'Prince of Wales New Food Foundation', attend Rajasthan Day celebrations and interact with farmers and business leaders.
The couple will also travel to Bhattmajra village in Punjab's Fatehgarh to meet farmers, some of whom have opted for organic farming. They will visit the Punjab Agri Food Park, which provides ground support for the Prince's organic farming initiative.
From Punjab, they will travel to Jodhpur in Rajasthan, where Prince Charles will inaugurate the Water Conservation Conference. They will also visit Artiya village to see water conservation measures. Prince Charles will also attend the International Business Leaders Forum conference in Jaipur, the capital of Rajasthan.
Image: Prince Charles greets farmers on his arrival at Bhattmajra village in Fatehgarh Sahib near Patiala, Punjab.
Photograph: Prakash Singh/AFP/Getty Images