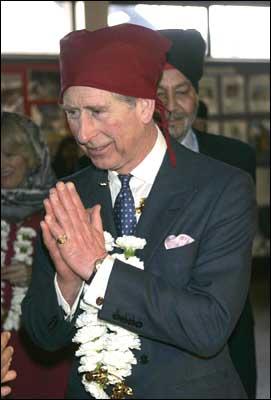 Prince Charles donned interesting headgear to visit the Gurdwara Sri Guru Singh Sabha Temple at Hounslow, in west London earlier this week as part of the Commonwealth Day celebrations.
Charles and Camilla, Duchess of Cornwall, met community leaders, temple volunteers and children while they were at the gurudwara and even witnessed, much to the Duchess's horror, a blindfolded swordsman chop a water melon on a person's stomach.
The royal couple plan to visit India later in March.
Photograph: Michael Dunle/AFP/Getty Images