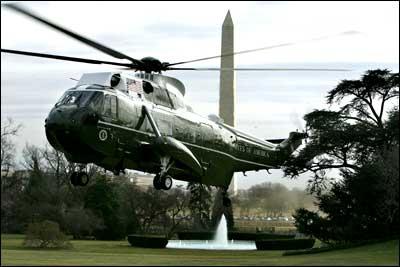 In Hyderabad, visiting United States President George W Bush flew from the airport to the Acharya N G Ranga Agricultural University on a Marine One helicopter.
Here are some interesting details about Marine One.
Any US Marine aircraft carrying the American President is given the call sign Marine One. It is one of the choppers off the Marine Helicopter Squadron 1, or HMX 1.
On September 7, 1957 Dwight D Eisenhower, the 34th US President, became the first American President to travel in a helicopter when he took a seven-minute trip in an HMX-1 UH-34 Seahorse . It did not have air conditioning, or a loo.
Shortly after that, the president's naval aide asked for an evaluation of the feasibility of helicopter landings and take-offs in the South Lawn of the WHite House. in
In his last days as President, Bill Clinton flew across the Grand Canyon in Marine One. On landing, he was met by a single Marine standing on the edge of the canyon. The reason: American protocol says at least one American Marine in full uniform must meet Marine One wherever it flies.
Marine One is generally accompanied by a decoy helicopter.
The Marine One fleet, based in Quantico, Virginia, is supervised by more than 800 Marines.
You can't touch a Marine One unless you have Yankee White clearance, a strict background check by the American Defence Department.