Even as news flashes declare that New Delhi and Washington have clinched the nuclear deal, the streets of New Delhi are awash with a sea of humanity protesting against American President George W Bush's India visit.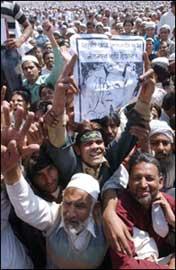 A protest rally -- of anywhere between 70,000 to 100,000 people - is making its way from Ram Lila Maidan to the seat of the Indian democracy, the Parliament House.
Led by Samajwadi party leader Amar Singh and Left leaders like Communist Party of India General Secretary A B Bardhan, CPI National Secretary D Raja, Communist Party of India-Marxist Politburo members Sitaram Yechury, Prakash Karat and Brinda Karat, the protest rally comprises not just the usual suspects, but students and common people -- of all ages and classes.
Che Guevara t-shirts brush against torn kurtas, jeans rub fabric with khadi pyajamas as the posters scream: 'Killer Bush go back', 'Global terrorist Bush', 'Hands off Iran'.
And chants against the most powerful man echo in the late winter weather of the Indian capital.
"Bush is a killer in Iraq and Afghanistan. He has killed innocent women and children," says Sudhir Kumar, a college student. "Bush only wants profits. He is coming to India to see that Americans get a toehold in Kashmir," adds the agitating young man. 
"I am not against America or the American people," clarifies Vanita Falcao, a fellow traveller in the march against the "imperialist President" of the most powerful country in the world. "But I'm against Bush's policies - because I'm anti-war," Vanita says, adding that "At least by coming here, we can make people aware of the evil that Bush's policies have unleashed on the world."
Rapid Action Force and Delhi police personnel keep a watchful eye as the procession snakes its way through the capital's roads.
"Six buses full of our supporters have been stopped from coming into Delhi," fumes Sanjay Yadav, district youth president of the Samajwadi Party, who has come from Ghaziabad.
Seventy-five-year-old Rahman Ali, from Mayapuri in Uttar Pradesh, was perhaps aware of the hurdles. He boarded the bus to Delhi at night, and was in the capital by 7 am, before time for the rally that began about an hour later.
"Bush is imperialist man," Ali says when asked why he had gone through the trouble to come here.
But what about the nuclear deal? Will it not benefit India? "Bush has a track record that cannot be trusted. He does things only when his selfish interests are served," Ali replies.
Meanwhile, the sea of humanity spills over on the generally empty roads of the capital. 
Photograph: Manpreet Romana/AFP/Getty Images
Also see
Bush's visit: Protests rock Parliament
Karachi: Twin blasts near US Consulate
What Bush wrote at Rajghat
The menu for the Prime Minister's lunch