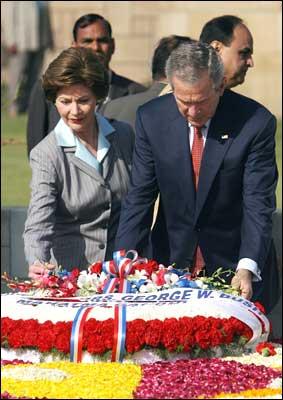 US President George W Bush and Laura Bush paid homage at Mahatma Gandhi's samadhi on Thursday morning.
This is what President Bush wrote in the visitors' book at Rajghat:
I am grateful for the opportunity to honour Mahatma Gandhi at this sacred site. His life was an inspiration to people around the world and his contributions to all mankind place him among the great leaders of history.
Signed George W Bush
The American President did not mention his designation in the vistors' book.
The wreath he placed at the Mahatma's memorial merely said President Bush and Laura Bush
What President Bush's father, George H W Bush, then US vice-president, wrote in the visitors' book when he visited Rajghat in 1984:
It has been a moving experience to honour the memory of a man who has been an inspiration to justice and peace. The message of Mahatma Gandhi still reverberates in the US as it does in India and other nations around the world.
Photograph: Prakash Singh/AFP/Getty Images