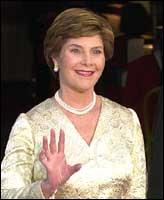 Laura Bush is the first First Lady to visit India with an American President on an official trip to the country.
Although two First Ladies, Jacqueline Kennedy and Hillary Rodham Clinton, have visited the country in 1962 and 1995, respectively, they came without their husbands.
Jacqueline, in fact, created quite a stir when she was in the Capital. The then prime minister Jawahar Lal Nehru played host to her for two days.
She instantly became popular with her charm. She visited craftsmen, bought some of their works and one of her high points was a visit to a children's hospital where she mingled freely with the children and distributed sweets.
When Hillary visited India in 1995, it was part of a South Asia visit. She visited Delhi, Agra and Ahmedabad and was so impressed with the visit to the Indian sub-continent that she dedicated a whole chapter 'Silence Is Not Spoken Here' in her bestseller Living History.
The title of the chapter in fact was taken from a poem, Silence, by a Delhi girl Anasuya Sengupta.
While these ladies took something or the other from the country, it has to be seen as to what Laura Bush, who is a librarian by profession, would do. Perhaps take a leaf out of Clinton's book and maybe buy a few Indian classics.
Complete Coverage: President Bush in India