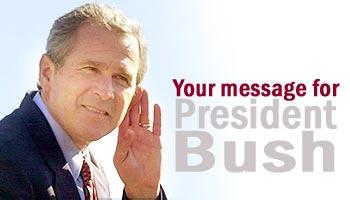 It is always an occasion when the world's most powerful leader comes calling.
Clearly, history is being made as President George W Bush lands in India on Wednesday, his first visit to South Asia since becoming President six years ago. Despite the various criticism leveled against the visit, this is a moment fraught with significance for India, as it elevates courtship to matrimony.
Do you have a message -- of welcome, caution, advice, criticism -- for the US President? Tell us!
Also See: The Rediff Dubya Blog
Complete Coverage: A Date with History
Photograph: Tannen Maury/AFP/Getty Images