Michael A Levi is the lead author of US-India Nuclear Cooperation: A Strategy Moving Forward, a Council On Foreign Relations report, which could define the fate of the India-US nuclear deal now being debated in the US Congress.
The report argues that Washington, DC should adopt a two-stage approach: formally endorsing the deal's basic framework, while delaying final approval until it is assured that critical nonproliferation needs are met.
In an exclusive interview with Managing Editor Aziz Haniffa, Levi explains why the report, co-authored with Charles D Ferguson, is different from the plethora of similar reports circulating in US Congressional, administration and policymaking circles.
Allaying fears that it proposes conditions which both sides have warned would scuttle the agreement, he says, "we don't recommend renegotiating the basic framework -- we recommend endorsing it and reinforcing it."
A Fellow for Science and Technology at the Council on Foreign Relations, Levi was earlier a Fellow in Foreign Policy Studies at the Brookings Institution, another well-respected US think-tank. He is co-author of The Future of Arms Control, published by Brookings in 2005, which proposed new principles for controlling dangerous technologies in a world fraught by terrorism, and of Untapped Potential: US Science and Technology Cooperation with the Islamic World, also published by Brookings in 2005, which explored new opportunities for engaging Muslims.
Levi -- who holds a PhD from King's College at the University of London, where he was affiliated with the Department of War Studies -- is also an alumnus of the prestigious Princeton University from where he received his MA in Physics.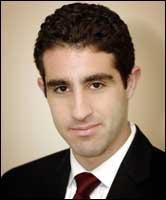 What's the rationale for this report, and more importantly, what's new in this report compared to the surfeit of reports and briefings by a plethora of other experts, think-tanks, etc?
We wrote the report because we saw many members of Congress concerned about both the US-India relationship and about non-proliferation. Almost every report published so far, though, does one of two things: it advocates that Congress pass the deal quickly and without reservation, or it proposes non-proliferation conditions that would effectively kill the deal. Neither satisfactorily addresses the twin concerns of Congress.
Our report proposes non-proliferation fixes but takes seriously the value of strengthening the bilateral relationship. The result is a proposal that addresses both non-proliferation and US-India needs.
Both India and the administration have made it clear that any conditions to this carefully crafted agreement that took them nearly a year to negotiate, would scuttle the deal. Isn't this report attaching conditions?
That is not true -- they have said that conditions that would require renegotiating the basic framework would scuttle the deal. We don't recommend renegotiating the basic framework. We recommend endorsing it and reinforcing it. Also, nothing in the deal required the US Congress to pass legislation in a single step.
'No question of major changes to N-deal'
If both the US and India, or India alone, refuses to acquiesce to this two-pronged approach that you guys recommend, would you then recommend then that the Congress not approve this deal?
Congress should refuse to put the deal to a vote until it has seen the nuclear cooperation agreement, the IAEA inspection agreement (with regard to safeguards negotiated between India and the International Atomic Energy Agency), and the Nuclear Suppliers Group rules.
Doesn't your position that Congress work to prevent nuclear testing and fundamental changes in Indian nuclear strategy, and not worry too much on blocking growth in the number of Indian nuclear weapons, contradict the critical non-proliferation needs that your report argues should be met?
And does it meet the most acute concern of the non-proliferation lobby, that the deal could lead to a diversion from civil to military facilities of US-supplied uranium or other nuclear fuel which could lead to an increase in India's nuclear weapons arsenal?
Our aim isn't to please any particular lobby -- it is to figure out what the most important non-proliferation issues are. That said, many non-proliferation experts believe that testing is more important than fissile material production. And we do not advocate abandoning efforts to restrain Indian fissile material production -- quite the opposite.
We just think that Congress has a limited role to play on this as it decides whether to pass the deal.
'US Congress could amend n-deal'
What do you feel are the most pertinent points in this report, vis-à-vis offering a new take in terms of perspective and analysis on the deal?
It is critical that analysts accept two basic points. If you believe that the deal shouldn't have been made, that doesn't mean that you should conclude that Congress should kill it now. And if you believe that the deal should have been made, that doesn't mean you should conclude that it cannot be improved.
The India-US nuclear tango | The Nuclear Chats | 'Support the N-deal'