The Congress plenary at Hyderabad will long be remembered for the widespread chant in favour of Rahul Gandhi, the young member of Parliament from Amethi.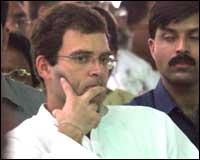 For, he bears the famous family name that Congressmen pay obeisance to at the drop of a Gandhi cap.
So intense was the clamour for him that Rahul Gandhi agreed to address the party on Monday, the last day of the conclave. Where for the first time ever, he outlined his vision for the party: recapturing its lost glory in north India.
For the average Congressman, the few years spent without a Gandhi-Nehru at the helm of party affairs is a nightmare best forgotten. And in the youthful Priyanka Vadhra and Rahul Gandhi lie his political future.
Will Rahul Gandhi make a good leader? Will he be able to revive the party's fortunes? What do you think of him? Are you fed up of Congress sycophancy? Tell us!