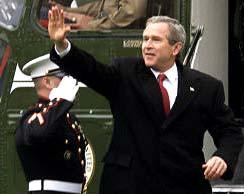 When he sings 'I must declare, my heart is there though I've been from Maine to Mexico', you can be sure Calypso music legend Harry Belafonte is not talking about anywhere in the United States.
In Venezuela on Monday, the iconic singer-turned-activist called American President George W Bush the 'greatest terrorist'.
Belafonte -- a close friend of the late Dr Martin Luther King -- is not the only one who holds George 'Dubya' responsible for a lot that is wrong with the world. It would not be an exaggeration to say no world leader has evoked as extreme reactions as the Texan has.
To many Bush is the saviour of America, the superhero who has dared to take on the hydra-headed monster of terrorism.
To many others, he is a man who has invaded Iraq and the privacy of millions in his own country, helped quicken the assault on the environment, bullied weaker countries, plotted the downfall of heads of State opposed to Washington's 'with us or against us' approach and violated human rights at will in his War on Terror.
What is your take?
How do you think history will remember George W? Is he a messiah or a terrorist?