United States Senator John Cornyn heads a shortlist of lawmakers US President George W Bush can count on for anything, any time.
The Texas Republican, the founder and co-chair of the Friends of India Caucus in the US Senate and long time confidant of the president, expects http://www.oscar.com/Bush's visit to India to be a landmark.
In an exclusive interview to Managing Editor Aziz Haniffa, the Senator said though difficulties have cropped up in both nations over the Indo-US nuclear deal, he expects the US Congress to ultimately approve the treaty. But, he warned, there won't be any monumental agreements coming out of the President's March 1-3 official visit to India.
What are your expectations from President Bush's visit?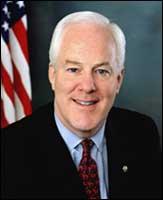 I believe the president will be able to state very powerfully the warming relationship between India and the United States, and he will be able to see for himself the promise that the relationship provides with regard to cooperation on security matters as well as economic and trade issues, which will benefit the United States and India immensely.
Do you foresee any tangible achievements during this trip?
I am hopeful that we will be able to achieve an agreement with regard to civil nuclear power to India. That is going to be a difficult issue to deal with, however, perhaps in both of our countries, but I believe it is something that must be addressed and solved.
I am not sure whether there will be what I would call a landmark signing of some document or agreement. This is part of an ongoing improved relationship that will hopefully continue to develop over a long period of time.
With regard to the nuclear deal, are you disappointed that India has not submitted a separation plan sufficiently early to enable the administration to secure Congressional approval ahead of the presidential visit?
We have much work to do in both countries. I am glad the president has not tried to move too quickly to ask the Congress of the United States to agree to this agreement, or concur with the agreement, until we work out some issues in the Congress. In other words, Congress has to be a partner in the agreement on our side, and I realise that there are also some issues that need to be dealt with on the Indian side.
So, this is an issue that will not move quickly and I don't think we should set artificial deadlines and perhaps set ourselves for disappointment when these deadlines are not met.
We just need to continue to work hard in that direction, and I think in due time we will be able to have something that will satisfy both parties.
You are the only Senator thus far who has taken to the Senate floor in strong support of the nuclear deal. How come none of your colleagues, including the members of the Friends of India Caucus, have followed your lead?
I thought it was important, as the co-chair of the India Caucus and somebody who is following these issues closely, that I indicate my support early, because I thought it would then raise the visibility of the issue in this country as well as send an important message to our friends in India.
(But) I do know that others are paying close attention to this -- Senator (Richard) Lugar (Indiana Republican) for example, who is chairman of the Foreign Relations Committee -- a very key committee and a very key Senator.
I think as we move forward, you'll see more Senators express their support. This is one issue where not everyone is operating with the same information, and I think we are going to have to raise the visibility and educate some Senators and members of Congress before they are completely comfortable, but I believe that we can ultimately get there.
The Bush visit chats: Don't miss them!
Senator Lugar has said India's separation plan for civilian and military nuclear facilities needs to be credible, transparent and defensible. Do you believe that Senator Lugar will come to favor the agreement, since he is a fierce advocate of nonproliferation, and has that particular lobby to contend with?
I agree with Senator Lugar with regard to those principles, and I believe those principles are good ones. But I think that what people need to realise is that India has the same interests in nonproliferation that the United States does, and that India's track record on that issue has been good, especially compared to other countries. I think as people become more aware of that, I think they will warm up to the agreement more.
Do you feel that Senator Lugar will look at this deal objectively, purely on its merits? Or will his thinking likely become clouded by his own nonproliferation advocacy and his concerns over countries that have not signed the Nuclear Nonproliferation Treaty, including India?
I do. He is a very seasoned and responsible Senator and I think a lot of people look to him as a leader on nonproliferation issues and our important relationships with other countries. I think he will be a very key member of the Senate and his leadership will be important. But I will be working with him and try to make sure this moves forward in a positive direction, and that people have the very real sense that we are doing this because it is in our mutual self-interest and not something that we are doing for some other less than worthy motive.
I think that's why the principles that you mentioned -– transparency, credibility and defensibility of the separation plan, and accountability are very important ones.
Senator John Kerry on the nuclear deal
When President Clinton visited India in March 2000, he was accompanied by a large entourage. Are you disappointed that President Bush is not taking pro-India Senators and Congressmen with him on this trip?
President Bush and President Clinton have different styles, and I would not read anything negative into President Bush's approach. The fact is that many members of Congress and many business leaders have visited India already, and there will be many more that will visit India after the President's visit there.
I believe the goal will be the same -- that we have a good relationship across the board, economically, from a security standpoint and politically.
Wouldn't you have liked to have accompanied him on what is clearly a milestone in US-India relations?
Oh! I always enjoy traveling with the President and I want to go back to India again soon. I just haven't been able to work it in my schedule. But I am not disappointed that I am not going with him because I have had a chance to go before, and I am sure I will go again and really it's entirely his call.
Coming back to the Friends of India Caucus in the Senate, there is criticism that it has not accomplished anything since its launch. What is your response?
Maybe different people had different expectations, and (some) expected a lot of fanfare and organised travel with large contingents of Senators. What has happened, I've found, is that a number of Senators have traveled to India since the founding, but have preferred to go on their own schedule and on their own itinerary.
I think that reflects some of the independence and also the difficulties of scheduling a large group of Senators for any group travel opportunity. So again, I would not read anything negative into that.
I think the relationship is a strong one and it's getting better every day, and I am convinced that when the President goes and after his return, (we) will view that as an important milestone in the relationship between our countries and one that will continue for the foreseeable future.
Are you and the other Friends of India Caucus members totally committed to this concept? Is your co-chair, Senator Hillary Rodham Clinton, and others as committed as you are to doing something substantive, and not merely using it to make the Indian American community feel good?
My impression is that all the members of the Caucus are committed to its success. I mean, this is the only country-specific caucus in the US Senate and that reflects the importance of the US-India relationship.
We have more than 40 members in a 100-member Senate, and I think that shows the kind of enthusiastic response that reflects the importance of that relationship.
So, we are in a good place and I am very optimistic about the future of our relationship.