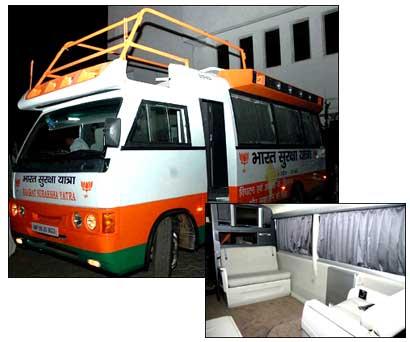 Bharatiya Janata Party senior leader L K Advani and party chief Rajnath Singh will embark, seperately, on a month-long cross country 'Bharat Suraksha Yatra from April 6.
Advani will begin his rath-yatra from Dwarka in Gujarat, while Singh will take off from Puri in Orissa.
The rath that will carry Advani has been designed by Dilip Chhabria Designs Pvt Ltd in Chinchwad, Pune. 
It is fitted with facilities like an air-conditioned rest room, aircraft-like toilets, public address system and satellite TV.
A new bus has been converted at a cost of around Rs 20 lakh. Unlike in the past, when yatras would invoke much fervour in the party, this one hasn't.
Photograph: Arun Patil