A Mumbai court Monday sentenced former police constable Sunil More to 12 years in jail for raping a minor girl at the Marine Drive police chowki in Mumbai in 2005.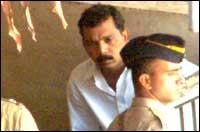 The incident took place on April 27, 2005, and More was dismissed thereafter.
Additional Sessions Judge K U Chandiwal sentenced More to12 years imprisonment, and fined him Rs 26,500.
Speaking to the media after the verdict, More said, "The police has trapped me in this case, I am not at all guilty. Charges were framed against me, I am innocent. I was caught because of politics and media hype. If I had been involved in the rape I wouldn't have minded if they hanged me. But unfortunately no one listened to my pleas that I am innocent." As the judgment neared, tension was evident on More. During the media interaction, he appeared with folded hands.
None of his family members were present at the court during the verdict; nor was there anyone from the victim's side.
Defence lawyer Milind Desai requested the judge to consider that More has a widowed mother, unmarried sisters, and no other earning member in the family while arriving at the sentence. 'If stricter punishment is given his family would also suffer,' he told the judge.
Public prosecutor Ujjwal Nikam, who sought life sentence for More, told reporters, "Justice is not meant for the victim alone but society also so that no criminal in future should dare to commit such a heinous crime. More's case should set an example for society. Rape is an offence which leaves a permanent scar on the victim, damages her self-respect and prestige.
"The police has to be protective of society, if they become aggressors there will be anarchy."
More is expected to appeal against the verdict.
Read More:
Coverage: The Marine Drive Rape