Richard C Holbrooke is a career diplomat who served as America's envoy to the United Nations and brokered peace in Bosnia in 1995.
Holbrooke, who may have been secretary of state had John F Kerry been elected America's President in November 2004, is certain that the United States Congress will approve the nuclear deal between India and the US.
Holbrooke, who was nominated for a Nobel Peace Prize for his peace-making efforts in the Balkans, was in Mumbai last month to attend the Asia Society Conference on India; he is the chairman of the Asia Society and the Mumbai conference was held at his urging.
In an exclusive interview to rediff.com's Nikhil Lakshman, he explains why America is favourably disposed towards India, and why he is personally bullish about India.
Do you think too much of the new India-US relationship has been anchored on the nuclear deal between the two countries?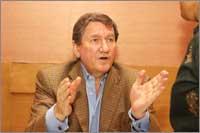 The India-US nuclear deal is of immense historic importance. For it to be approved the law must be changed in the United States. Right now the deal is not consistent with the law. There will be a vote in both Houses of Congress and a simple majority is all that is required.
We need to see if Congress will approve of the change. It is my prediction -- my absolute conviction -- that Congress will approve the deal.
I am virtually certain that Congress will approve this deal. But it will need some work on the part of the administration and India's many friends.
Many observers believe President Bush has exhausted his political capital and hence may be unable to get this agreement passed in Congress.
A President never exhausts his political capital!
His (Bush's) popularity has been declining. He has been badly hurt by Iraq and also by domestic issues like the Dubai port deal, but he has plenty of political capital to get this (the India-US nuclear deal) through.
I predict he will succeed with the Congressional group on the nuclear deal.
Will it be passed because Congress believes India is an important country it needs to have on its side?
Congress will approve the deal for three reasons.