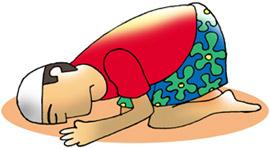 Doing the Namaz in bermudas?
Rediff India Abroad
Assistant Managing Editor Syed Firdaus Ashraf was part of a nine-member team of senior journalists from South and South East Asia recently invited to the United States for a two-week seminar. The invitation was extended by the East-West Center, a think tank based in Honolulu, Hawaii.
The visit included trips to Washington, Detroit and Seattle, and its purpose was to provide opportunities for Asian and American journalists to discuss the relationship between Asian countries with large Muslim populations and the US, especially in the post-9/11 period.
In this, the third part of a series, he shares his experiences in the land of the free...
One of the most shocking things we experienced in Seattle was praying at the Idris mosque there.
We saw American Muslims wearing bermudas at Friday prayers.
Another thing that shocked me was watching men stroll through during prayers. According to Islamic law, one is not allowed to do this. Also, every man has to wear ankle-length trousers.
In protest, I went to one of the mosque's senior members and asked him about these violations. He admitted it was wrong to pray in bermudas, but added that stopping people was impossible.
'We have explained the rules, but they don't follow them,' he said. 'This is America. No one tells anyone what he or she needs to do. We have personal freedom for everyone, so we cannot interfere in their lives.'
Loyalty to Islam or America?
Our group had a basic knowledge of Islam, stating that every Muslim was the brother of another Muslim. We were also aware of our duty to help Muslims being treated unjustly by non-Muslims.
So, we were interested to know what Muslims in America felt about their brothers being killed by US forces in Iraq.
Part I: Mr Ashraf goes to Washington
A Muslim cleric in Washington gave us an interesting answer. According to him, America would have not intervened in Iraq if expelled Iraqi leaders had not pressurised George Bush. America intervened on behalf of Iraqi Muslims who were being tortured by Saddam Hussein.
He then quoted an 'Islamic religious verse' and told us it was written that if a Muslim ruler was being unjust with his subjects, there was no harm in their asking a non-Muslim ruler for help. He added it was then the duty of Muslims to support the non-Muslim ruler restore peace before he left the occupied place.
Ramzan in Seattle
Seattle is a very strange place when it comes to sunrise or sunset. At times, daylight lasts for nine hours. At other times, the sun sets after 18 hours.
I was curious to know how Muslims kept the fast for 18 hours there.
'We do follow the sunrise and sunset religiously for Ramzan,' said a member of the Idris mosque. 'On some months, we fast for nine hours; on others, we fast for 18. This is Allah's will and we have to follow it.'
He made another interesting point about Ramzan in Alaska.
Part II: Does Bin Laden hate MTV?

Alaska, he pointed out, has six months of darkness and six months of daylight. So, Muslims there simply followed timings in Saudi Arabia for Ramzan.
No escaping bloggers
If you are a journalist and happen to be in America, you can't escape blogs or bloggers.
A recent story missed by the American media was highlighted by bloggers before it made national news.
LaToyia Figueroa, who was five months pregnant with her second child, was found dead in Chester, southwest of central Philadelphia. Figueroa, 24, had been missing for a month.
Bloggers helped attract attention to the case by pressuring news media to cover stories involving blacks or Hispanics. According to a survey at the Washington University of Seattle, these bloggers are educated and usually under 35. And yes, they don't trust television news or newspapers.
'You can say they are the fifth state judging the fourth state,' said a lecturer. 'They are also hated by journalists, because journalists don't like being judged all the time.'
Illustration: Uttam Ghosh