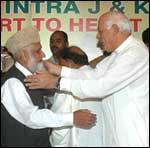 Former Jammu and Kashmir chief minister Dr Farooq Abdullah on Tuesday said there can be only one solution to the Kashmir problem of Jammu and Kashmir wherein the line of control disappears and the two regions continue to remain parts of India and Pakistan respectively.
Abdullah told a delegation of politicians and intellectuals from Pakistan-occupied Kashmir led by former PoK prime minister Sardar Abdul Qayyum Khan, "The two Kashmir regions should remain with India and Pakistan respectively and the line of control between the valley and PoK disappears so that we can have a life of peace and tranquility," he said.
He made a scathing attack on the Pakistanis for talking of peace and plebiscite without giving a thought to what the Kashmiris on the Indian side of the border go through.
"Life has become hell after the ascent of terrorism in the valley. Top leaders of my party have been assassinated. Who killed Abdul Gani Lone, father of Sajjad Lone who is participating in these deliberations? The man came from across the border. You send in terrorists to kill innocent citizens whether they are Muslims, Sikhs, Hindus or any other religion. You don't know what we are going through because you have not tasted it.
"Allah ke liye koi aisa haal nikal liyee jis se aap aur hamari Zindgai behtar ho," he said as the stunned delegates watched.
He blamed vested interests both in India and Pakistan for sabotaging a solution.
"There are people in both the countries who want terror to go on so that their industry continues to survive.
"The people in Pakistan want to cut Dr Farooq Abdullah to piece because he refuses to toe their line. I am proud to be an Indian and I cannot be anything else because in our country there are different religions. But in Pakistan you have only Muslims living there. The Ahmadiya Muslims who were thrown out of Islam and whose mosques were blown up in Pakistan continue to live life of peace in India and they pray in their mosques. We in India are looking for autonomy for our state," he said.
After his speech a young Pakistani woman asked Dr Abdullah why the valley can't be part of Pakistan, Dr Abdullah, in his typical style, said that we are happy here.
He asked her if there was a medical college or engineering college in PoK to which she said that there was none.
Then he asked her the condition of the roads to which the girl chose not to reply. "Come to Kashmir I will show you what all we have that you don't have," he said.