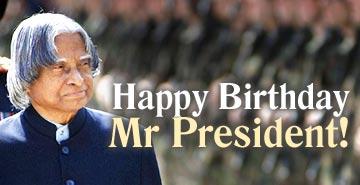 When he suffered a fracture early this year, many of you wished him a speedy recovery and he was overwhelmed by the gesture.
Saturday, October 15, is Avul Pakir Jainulabdeen Abdul Kalam's birthday.
A few days before he turned 74, the President who is always thinking of ways to make India better, suggested creating a science cadre to attract the country's youth to a career in science.
While wishing the President, please tell us what you think of his new idea.
You can also send in your suggestions on how to make India a superpower, President Kalam's enduring desire.
Also see:
How much do you know about the President?
The President's poems
The President as Rock Star
The Rediff Interview
The Bomb and After
More coverage on Dr Kalam

Photograph: Martin Bureau/AFP/Getty Images