The concluding part of President APJ Abdul Kalam's speech at the 11th anniversary celebrations of Indian Women's Press Corps in New Delhi, October 9.
Women journalists for reporting with compassion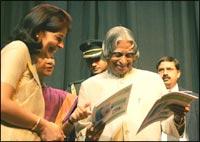 We have a very proactive media in the country who have many times excelled themselves in not only reporting crime but also in ensuring peace and harmony. Women journalists have also significantly contributed in this regard. Annual meets like this would enable all journalists to share with each other the lessons and experiences in their own area of reporting. That will provide a wholesome and holistic approach to the problems which are to be tackled by them.
Of late, the incidence of crimes against women has gone up and the role of the journalists, particularly women journalists, has become quite crucial in such cases. Nobody can understand a woman's problem better than another woman and therefore the role of women journalists becomes all the more critical. Womankind, known for its innate humanness, sympathy and compassion is best suited to tackle all problems. Particularly, when there is so much emphasis on reformative approaches rather than retributive ones.
Our civilizational heritage is indeed the summation of motherly love, with continuity. This continuity ensures children to imbibe the love for fellow human beings who are in pain. I would like to narrate an incident. As you are all aware, on December 26, 2004, a tsunami hit the coastal areas of southern India and Andaman and Car Nicobar Islands. At 10 O'clock on that day, the concerned state governments and central government mechanism through the civil administration, police and armed forces and other related ministries were pressed into service. However, within an hour of disaster, before the government machinery arrived for rescue operations, social organisations all around the place and many benevolent human beings reached the spot and started rescuing the hapless and started providing food and medical care. Not even one single untoward incident was reported, where the people in distress were exploited. Friends, when similar events happened elsewhere in the world, how the people behaved, I don't want to describe. Particularly the women journalists should take note of this and cherish our civilizational heritage and sing its praise
Mission of Women Journalists
Every member of the women's press corps has her own dream. It has to be groomed. When I think of success in life, first requirement is that every one of us has to have a mission or goal. Realization of a mission or goal is achieved through a four-step process. The first one is to have a goal on, where you would like to reach in the next five years. The second one is to acquire the knowledge and experience needed to reach that goal. Third one is continuous hard work, which I call 'sweat, sweat and sweat'. The fourth one is perseverance and ability to face problems and solve by becoming a master of the problems and succeed. If you follow these four steps you will definitely succeed in all your missions in life.
Suggested Actions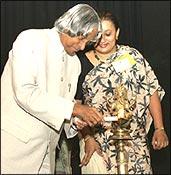 Now I would like to give five suggestions regarding the actions which could be taken by the members of the Indian Women's Press Corps.
(a) IWPC can constitute a multi-disciplinary team to study and bring out an objective report on the problems faced by women journalists working in different parts of the country through systematic research. This can be done in collaboration with journalism and mass communication department of one of our universities.
(b) The report of the multi-disciplinary team can be discussed in a two-day seminar organized for this purpose by the IWPC during early 2006. The seminar can debate each issue raised in the report and suggest actions to be taken by various agencies such as government, NGOs, society, media organizations and the journalist themselves.
(c) IWPC can create a web site wherein the findings of the report and the results of the conference can be put for the study of members and common public. The members can be asked to comment on the recommendations and their reservations if any. Based on this feedback IWPC can work out an action plan to be submitted to the government so that a unified corrective action can emerge.
(d) The Corps could organize workshops for young women journalists who have recently joined media organisations to improve their skill sets so that they could contribute to their organizations in their reporting through a woman's perspective and influence the news and issues to be handled.
(e) IWPC can create a movement through which they can enhance the literacy among women which is essential for creating awareness among our women for contributing to the cause of national development.
(f) I have designed an eight-point oath for village citizens, emphasizing the need for treating both male and female children equally. I have administrated this oath in a number of villages in many states during my visit.
I would like to share with you the oath that you can spread.
Declaration by the village citizens
i. Children are our precious wealth
ii. We will give equal importance for male and female children in providing education and rights for growth of our society.
iii. For health and prosperity we will have a small family.
iv. Earnings come out of hard work. We will not waste it in gambling and liquor.
v. We need to tell our children about the importance of education as learning gives knowledge and knowledge makes the children succeed.
vi. We need to jointly protect our forest and prevent pollution.
vii. We will plant at least five trees/saplings.
viii. We will become the role models for our children.
I would request the journalists assembled here to propagate the contents of this oath to all applicable sections of the society.
Empowerment
When a child is empowered by the parents at various phases of growth, the child gets transformed into a responsible citizen. When a teacher is empowered with knowledge and experience, good young human beings with value systems emerge. When an individual or a team is empowered with technology, transformation to higher potential for achievement is assured. When a leader of any village empowers his or her people, leaders are born who can change the nation in multiple areas. When women are empowered, society with stability gets assured. When the political leaders of the nation empower the people through visionary policies, the prosperity of the nation is certain. When religions are empowered and become a spiritual force, peace and happiness will blossom in people's heart. When noble journalists are empowered, democracy flourishes.
Conclusion: Permanency of virtual world
Today, computers and communication technology have grown to such an extent that the world has shrunk to be a global village. Further, communication has also become rich in its content and has transcended from mere text that we see in the newspapers to voice as we hear in the radio news to very rich multimedia that we see on television. Because of the plummeting cost of storage, today all of these are available in the Internet and would be preserved for our future generations to learn about their past, and also pass judgments on our quality of mind. So, what you write today will become permanent in the virtual world of Internet and generations would see. Hence, the journalists of today will not be forgotten in the human history merely after the event is over. They will be remembered for many more years.
The responsibility in such a technologically enhanced world of communication on the part of the journalists is immense. In one of my books, I have written a statement, 'every human being irrespective of who he/she is and what status he/she holds, has a page in the history of human beings in the planet.' Please remember you have many pages in human history.
Concluded