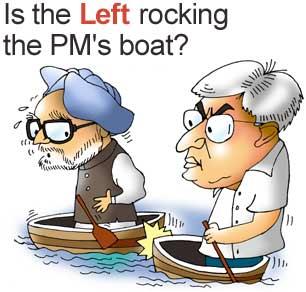 The Left is fast losing patience with Prime Minister Manmohan Singh.
A section of the CPI-M, including party boss Prakash Karat, blames Singh personally for what it calls a marked pro-US tilt in foreign policy.
More specifically, it holds him responsible for India's surprise vote at the recent International Atomic Energy Agency meeting, which riled Iran so much that it accused India of betrayal.
Opinion in the CPI-M against the PM has hardened to such an extent that one cannot rule out their seeking his removal in the near future.
The Left is veering round to the view that if Singh persists going down the pro-West road, they will have to demand his replacement by a Congress leader with known leftist or socialist credentials.
Of course, the Communists have no intention, at least as for now, of withdrawing support to the UPA government.
With 60 of their members in the Lok Sabha, the UPA arrangement cannot survive for a day without their support. They can always insist on replacing Singh as the minimal price for their support though.
It would then be for the Congress leadership to decide whether it wants to continue with the UPA arrangement or go in for an early general election.
On his part, the PM has shown no inclination of succumbing to Left pressure on Iran, convinced the course adopted by India was correct. His reported decision to stick to that stand at the IAEA board meeting in November hasn't exactly helped either.
Manmohan unconcerned
Unmindful of the verbal barrage let loose by top guns of the Left, the PM briefed a select group of journalists a couple of days ago. He reiterated his stout defence of the IAEA vote and announced that India would not reverse its stand unless Iran abandoned its nuclear ambitions.
It was supposed to be a background briefing, and meant to be kept a secret. But, given that there were half-a-dozen newspersons, it didn't take long for word to reach Karat and Co. that Singh had no intention of caving in. This, in turn, further hardened the Communists' perception of Singh as pro-US.
RSS chief is no quitter

Media speculation that RSS Chief K S Sudarshan will step down at a forthcoming meeting of organisational bigwigs in Chitrakoot is rather premature.
Reports that RSS workers sympathetic to BJP President L K Advani are determined to seek Sudarshan's resignation on account of his old age -- he is 79 -- are unfounded.
There is no question of him stepping down in the near future to make way for his Number Two man, the well-regarded Mohan Bhagwat.
Mitrokhin: Tip of the iceberg
L K Advani's demand for an inquiry into revelations by former KGB archivist Vasiley Mitrokhin might have been rejected by the government, but senior Intelligence Bureau personnel are convinced of their veracity.
Indeed, Mitrokhin's book reveals just a tip of the iceberg. There is far more damning information in the files he fled from the former Soviet Union with, with the help of the British embassy in Latvia.
According to a senior IB operative, the British duly shared with the Indian government relevant portions pertaining to KGB operations in India. Advani did not bestir himself into action while he was home minister, although the Mitrokhin files on India were in the possession of the Intelligence Bureau. Maybe he wasn't informed by IB bosses.
For a peep into the kind of operations run by the KGB through the Cold War, consider this: During the brief Janata Party interregnum in 1977-1979, it was revealed that an English daily with a negligible circulation but a multi-storey building in Delhi received Rs 95 lakh in cash over a period of time.
Quizzed by Indian authorities about their source, the paper offered no convincing answer.
Patel ticked off
Civil Aviation Minister Praful Patel was ticked off by the prime minister for bypassing norms and procedures of appointment in order to foist his nominee as chairman-cum-managing director of Indian Airlines.
Referring to Sushma Chawla, who has functioned as CMD since Sunil Arora's retirement four months ago, the PM wondered 'why an unqualified person, who does not meet necessary minimum criteria, has been given charge of the post.' It was at the specific direction of the PM that Patel had to approach the Public Enterprises Selection Board for appointing a new CMD.
Some are more equal than others
The three-day annual conference of the directors general of police in Delhi had a significant item on its agenda: Security of the Gandhi family.
The DGPs spent a good deal of time mulling over the finer details of Rahul, Priyanka and Sonia's security, even though none of them holds any ministerial office.
The Gandhis are under the care of the Special Protection Group -- as are quite a few others, including former PM Atal Bihari Vajpayee.
Clearly, there was no lacuna in the security set-up of anyone else though, considering the DGPs deliberated about the Gandhis alone.
Incidentally, if you didn't already know -- stopping of traffic by the police to facilitate the passage of so-called VVIPs has no backing by law. Traffic can lawfully be stopped only for the President of India. It is a different matter that traffic in Delhi is now disrupted even for colourless Home Minister Shivraj Patil.
That nexus again
There has been a phenomenal rise in the number of big-time builders in the capital in recent years, but no story has grabbed eyeballs as much as that of a contractor who, almost overnight, grabbed a huge chunk of the real estate action in Delhi, Haryana and UP.
He has come to acquire hugely expensive properties and is on course to emerge as one of the biggest players over the next couple of years.
Given his humble origins, the question inevitably asked is -- who is behind his crores?
It invariably elicits the name of a local Congress leader.
Illustrations: Uttam Ghosh