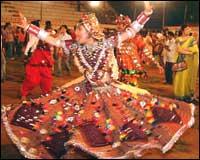 The festival of nine nights, when devotees offer prayers and dance to the foot-tapping beats of dholaks to appease Goddess Durga, is here.
It is that time of the year when large crowds, irrespective of caste, creed or religion, gather to play the dandiya raas, the most prominent feature and alluring of the Navratri festival.
Young and old alike in colourful costumes dance to peppy tunes with dandiyas (sticks, which are integral props for the dance) till the wee hours.
Everyone has a favourite Navratri memeory. Share with us some of your great Navratri moments with us.