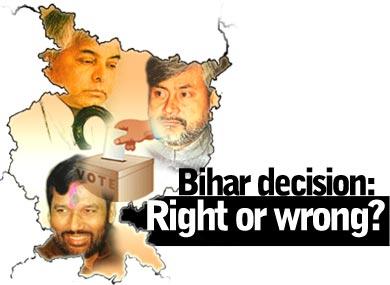 Bihar -- one of India's most politically volatile states -- is once again heading for elections after the Congress-led UPA government in New Delhi recommended the dissolution of the state assembly late on the night of May 22.
President's nod for Bihar assembly dissloution
The state had its last election just three months ago. Since no party won the required number of seats to form a government, President's rule had been imposed in Bihar and the assembly was placed in a state of suspended animation.
The Congress said the decision was taken to prevent horse-trading efforts in the state after some MLAs from Ram Vilas Paswan's Lok Janashakti Party expressed their willingness to join Janata Dal-United leader Nitish Kumar, the NDA's chief ministerial aspirant.
The LJP MLAs were in a rebellious mood as they felt that Railway Minister and RJD leader Lalu Yadav was trying to stage a comeback to state politics and capture power through the back door.
The BJP has called the action as a 'murder of democracy.'
Do you think it was right to dissolve the assembly and call for fresh elections? Will this prevent parties from using unscrupulous means to get the numbers? How does this bode for Indian democracy?
Write and tell us what you feel about the latest twist in Bihar politics.