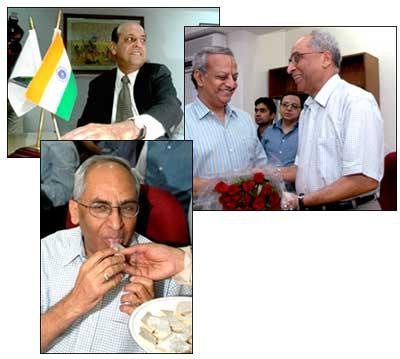 B B Tandon (right, with former Election Commissioner N Gopalaswamy) took over as the new Chief Election Commissioner on Monday.
The 64-year-old officer, from the 1965 Indian Administrative Service batch, will hold charge until June next year.
Tandon, who was appointed as EC in 2001, will assume charge of the post on the retirement of incumbent T S Krishna Murthy on May 16, an official announcement said.
Prior to becoming EC, Tandon was Personnel Secretary at the Centre. He was also a member of the Delimitation Commission.
Naveen Chawla (top left), the Information and Broadcasting Secretary was also appointed EC in the vacancy caused by Tandon.
Chawla, a 1969 batch IAS officer, was due to retire in June. Now he would have a five-year tenure in the three-member Election Commission.

Photograph: Sondeep Shankar/ Saab Press