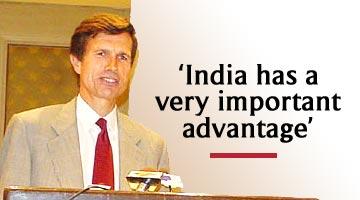 Robert O Blake, one of the sharpest American career diplomats has been assigned to look after the most sensitive global zone today, South Asia.
Charges de affairs in the absence of US Ambassador David Mulford, he spoke at length on various strategic issues to Tarun Vijay, Editor, Panchjanya, on the eve of the seventh anniversary of the 1998 nuclear tests, at the US ambassador's office in New Delhi.
How do you look at the Indian-American community's role in US-India ties?
The United States and India have strong common values and common interests that have been reflected in our cooperation in terrorism, in addressing transnational issues like drug trafficking, and other big issues of the world like non-proliferation, promotion of democracy so on so forth.
Specially important is the NSSP (Next Steps in Strategic Partnership Initiative), which will include expanded engagement on nuclear regulatory and safety issues and missile defence, space technology and high technology commerce.
No doubt in these relations the large and increasing influence of the Indian-American community is visible enough. There are about 2 million NRIs in the US today. They are one of the most successful ethnic groups and are also becoming increasingly active in politics, not only giving money to political campaigns, but also running for office themselves.
Mark Warner, the governor of Virginia, was saying he has 15 Indian Americans in his administration. And there is great interest in the US in India's culture and ancient civilisation. As a democracy, the US people are very attracted by the idea of a billion person democracy and there is a strong sentiment that we should be working more closely with India to address the common problems of the world.
How do you foresee their role to influence strategic issues between India and the US?
I think they are going to have a very, very important role. Already the Government of India has recognised the importance of the NRI community overall, particularly the NRI community in the US, through the Pravasi Bharatiya Divas. Many Indian Americans come to join it and many are coming back.
When you go to places like Bangalore, many Indian engineers from the US are seen settling down there, because more opportunities have opened up. Also you see a lot of Indian Americans want to come back and start schools, hospitals in their villages to help their native country in some way. That's a wonderful thing, and should be encouraged.
They are also involved in strategic areas. People like Fareed Zakaria (Editor, Newsweek International) are really helping, in fact, acting as bridges between the two countries. Because they understand both the US and India.
What do you think will be the strategic areas where India and US will work very closely?
Terrorism, military cooperation, energy, space, trade and economics -- we are working very closely in many, many fields. Over the last two or three years we have developed our military cooperation programme -- joint exercises which has grown in complexities over the years.
As we look ahead, we see India is certainly a growing economic power, is also looking to project its influence in power overseas -- playing a greater role in areas from the Straits of Malacca all the way over to the Persian Gulf, to the end of Africa. There are many examples of Indian activism. We want to work closely, there is lot of synergy we can work upon.
Still, the US has closer ties with other non-democracies, rather than working enthusiastically with this 'billion person democracy', especially in combating terrorism?
I think we both have been victims of terrorism. We had 9/11 and you too have been a victim. On this issue we have an active and close cooperation. We work very, very closely. It's going to be far wider than just terrorism issues.
In March Secretary (Condoleezza) Rice was here and (External Affairs) Minister (K Natwar) Singh had been to Washington and they have strengthened our strategic relations in three important areas.
First, by expanding defence co-production by working together on what we can do in the areas of space, then by expanding our energy dialogue and the third and very important is about NRIs on the economic side.
We are very proud to be India's largest trade partner. We can do much more; we can expand trade and investment much more between our two countries. We have put in place an architecture to address past legacy issues but also to look at what positive steps both governments can take to expand trade between two countries.
This can be a very important thing. The new element in this is that we have a private sector component that will be a forum of CEOs on both sides who would advise the governments about specific steps to have a real practical effect on trade.
Still, the US trade balance is more in favour of China than India. China is seen helping Pakistan and North Korea in the nuclear field, yet India is less than what China is to the US?
On the trade side, (there are) two things. China opened up its economy much earlier, 12, 13 years earlier than India did.
Secondly, China is a more open economy than India. India is still one of the most protected economies in the world. So although tariffs have come down, still much progress is to be made in that area. That's exactly the area we continue to work together with the ministry of commerce and elsewhere. That's the only reason of the difference.
India has been the most protected economy, has been slow to open up that's why the Chinese government got (our) trade. I think the recent progress has been encouraging. We have seen the introduction of VAT. We have seen tariffs coming down quite rapidly and then I think the government is very serious about addressing the problems of infrastructure.
How does the US look at India, China in the next ten years?
Well, on the economic side both are going to be really important economic powers of the world. China seems to grow faster then India right now. But if you look at the projections by others and the US, India has a very important advantage, of a younger population. When the labour force of all other countries, including even China and mine would be ageing, yours would be the youngest. Provided India gives these people the right education and training to compete.
On the military side, it depends -- how China would use their economic power, really I don't know. The Chinese are not as democratic as India. So I think we would be working very closely with India on the problems of the world. I really don't know where would China be but India will be a force. That may be the focus of our policy.
Kind courtesy, Panchjanya
Part II: 'India a responsible nuclear state'
Image: Uday Kuckian