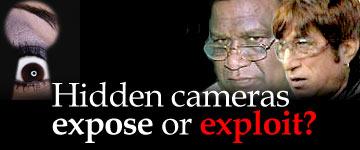 Bollywood baddie Shakti Kapoor is in the midst of a controversy after a sting operation by India TV showed him seeking sexual favours from a journalist posing as an aspiring starlet.
This is not the first time that hidden cameras have exposed chinks in the system and the frailties of well-known personalities.
In March 2001, tehelka.com had exposed a defence scam.
Last month, India TV filmed Bihar MLAs with prostitutes.
There are some who vouch for sting journalism, contending that the end justify the means.
But there are others who argue that sting operations violate the ethics and tenets of journalism.
Do you think such journalism is justified? Or do you those such journalism is unwarranted?

Tell us!
Headline image: Rahil Shaikh