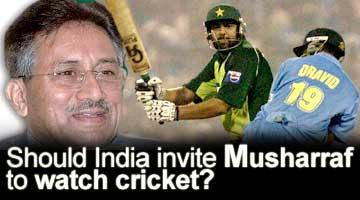 President Pervez Musharraf last week expressed his desire to watch cricket in India.
In an interview to a Pakistani newspaper, he said he liked watching cricket and would like to travel to India to watch an India versus Pakistan match in the series that began on Tuesday in Mohali.

The general surely will have more than cricket on his mind if he travels to India. And that is what is probably worrying the ministry of external affairs. Musharraf, who adores press briefings and making dramatic statements, can be a pesky customer to deal with. Remember his breakfast meeting with Indian editors in Agra in July 2001?

Musharraf, who is also the chief patron of the Pakistan Cricket Board, is not the first Pakistani leader to try his hand at cricket diplomacy. In 1987, in the aftermath of the Indian Army's Operation Brasstacks which raised temperatures on the sub-continent, then Pakistani dictator General Zia-ul Haq travelled to Jaipur to watch a cricket match.
Should India be game to Musharraf's offer? Do you think it is time both India and Pakistan delink sporting ties from political issues? Would denying an invite to the general destroy the current bonhomie between India and Pakistan? Let us know!

Also see:
India may invite Musharraf to watch cricket