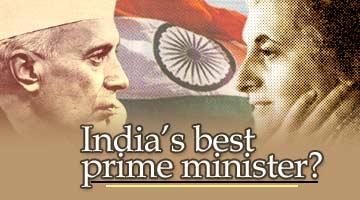 On June 19, Rashtriya Swayamsevak Sangh chief K S Sudarshan praised Indira Gandhi for her courage and determination as a prime minister. He lauded her role in the creation of Bangladesh out of Pakistan.
Sudarshan also criticised India's first prime minister Jawaharlal Nehru, saying the 'English-minded' PM was responsible for the ills facing the country.
Later, the Vishwa Hindu Parishad concurred with the RSS chief's views on Indira.
Over the same issue, Janata Dal-United leader George Fernandes criticised the RSS chief. He said praising Indira as a prime minister was 'endorsing dictatorship'.
Who do you think was/is India's best prime minister?
Do send us your list of India's best prime ministers.