Fourteen people, including two students and three Central Reserve Police Force officers, were killed and over 100 injured when militants detonated a car packed with nearly 40 kg of RDX in Pulwama, about 32 km from Srinagar.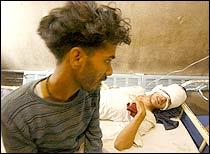 Eleven civilians were among the killed.
The casualties were mainly caused by splinter injuries due to the huge blast that rattled the entire township, official sources said.
The blast occurred just outside a government school and barely 50 mt from a CRPF camp at around 11:30 am.
Several buildings including 18 residential houses, 20 shops and many parked vehicles were damaged in the explosion.
The site was strewn with mangled parts of vehicles, iron and glass pieces. The toll is likely to go up as the condition of some of the injured was stated to be critical, the sources said.
Police and defence officials had earlier said an improvised explosive device was fitted in a truck, but recovery of the engine of a Maruti car some distance away and the lesser extent of damage to the truck suggested otherwise, they said.
The killed CRPF officers were identified as Inspector T R V Prasad and Sub Inspectors Amba Rao and J D R Kumar.
The bodies of the CRPF personnel, who had gone to a bank on some official work, were severed beyond recognition, giving rise to speculation that it might be a failed suicide attack, the sources said.
Three persons were killed in the driver's compartment of the load carrier truck, which was passing past the RDX-laden Maruti car, the sources said.
Five persons succumbed to injuries while being shifted to hospitals, the sources said, adding that a construction worker from Uttar Pradesh, identified as Mohammad Iqbal, was among the dead.
The blast is the second of its kind in as many months. Last month, a car bomb was triggered by militants in the posh Jawahar Nagar locality of Srinagar killing two persons and injuring scores of others.
Monday's attack led to massive protests in Pulwama with people taking to the streets and pelting stones on passing vehicles, the sources said.
Police resorted to lathi-charge and fired teargas shells and a few warning shots in the air to bring the situation under control as protestors continued to target the police and its vehicles, they said.
No militant outfit has claimed responsibility for the blast. Several political parties and separatist organisations, including the National Conference and the hardline faction of the Hurriyat Conference of Syed Ali Shah Geelani condemned the blast and demanded an impartial probe into the incident.


Photo Credit: SAJJAD HUSSAIN/AFP/Getty Images
WITH PTI INPUTS