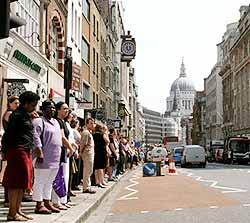 Office workers wordlessly filled the streets, construction workers removed their hard hats and London's famous black cabs pulled to the side of the road as Britain silently paid tribute to the victims of four terrorist bombs that struck a week ago Thursday.
Queen Elizabeth II stood motionless outside Buckingham Palace, and a crowd filled Trafalgar Square, where many could be seen wiping away tears and hanging their heads in prayer during the two-minute tribute that began at noon.
The silence was broken only by the tolling of Big Ben.
Earlier, police in London handed out leaflets asking for help in tracking down the bombers, and authorities in the northern city of Leeds -- where investigators believe the suspects came from -- searched another address in their hunt for evidence.
During the tribute, the usually thronging hordes of tourists outside Westminster Abbey also fell silent. Vehicles came to a standstill in the usually busy Parliament Square, as taxi drivers and motorists ignored the green signals on traffic lights.
British television interrupted normal broadcasting to show photos of the aftermath of the July 7 attacks: soot-faced commuters fleeing in fear and paramedics tending to the injured.
In Leeds, the focus of the police investigation into the attacks, hundreds gathered outside the Hamara Living Center, where one of the suspects had counseled disabled youths. With heads bowed, they faced the center and marked the moment.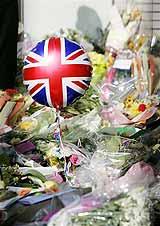 Prime Minister Tony Blair marked the silence in the garden of his official resident at 10 Downing St., where he hosted a reception for police officers receiving bravery awards not related to the bombings.
In the House of Commons and the House of Lords, lawmakers broke off debates to join in the silence.
"As we stand together in silence, let us send a message to the terrorists -- you will not defeat us and you will not break us," said George Psaradakis, who was driving the double-decker bus when a bomb killed 13 passengers.
People across Europe also paused.
In Paris, sirens wailed across the city and French President Jacques Chirac and visiting Brazilian President Luis Inacio Lula de Silva stood at attention outside the Elysee Palace.
Hundreds of European Union officials gathered in the sunlight outside EU headquarters in Brussels. The row of blue-and-gold EU flags outside the EU's Berlaymont building flew at half-staff.
Earlier, at an Italian mountain retreat in Les Combes, Pope Benedict XVI also prayed for the victims.
Photos: Dimitri Messinis/Matt Dunham, AP