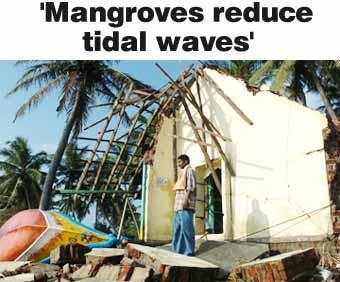 As chairman of the government's National Commission of Farmers, Dr M S Swaminathan has been asked to submit his report on how to face natural disasters like the tsunami.
In an interview to Contributing Special Correspondent Shobha Warrier, he explains some of the proposals he is going to make to the Government of India.
For the last 14 years, MSSRF (MS Swaminathan Research Foundation) has been working to conserve and regenerate coastal mangroves along the east coast of India. It was reported that the fishing village of Thirunal Thoppu in Tamil Nadu with 172 families was saved from the tsunami only because there was a dense growth of mangroves there.
Yes. It is true. The super cyclone havoc in Orissa and the current tsunami tragedy have made people understand the role mangrove forests can play in reducing the fury of cyclonic storms and tidal waves.
We have to initiate a bio-shield movement along the coastal areas by raising mangrove forests, plantations of casuarina, salicornia, laucaena, atriplex, palms, bamboo and other tree species and halophytes -- all that can grow near the sea.
They will serve as speed-breakers in coastal storms, cyclones and tsunami. They will also serve as carbon sinks, helping to enhance carbon sequestration and thereby contributing to reduce the growing imbalance between carbon emissions and absorption.
Mangroves are also very efficient in carbon sequestration. In addition, they promote sustainable fisheries by releasing nutrients in the water. They will provide additional income to coastal communities.
'Coastal bio-shield' can also involve agro-forestry programmes, like intercropping of casuarina with hybrid pigeon pea or red gram. This can be undertaken by farming families. Thus, the bio-shield movement can have multiple benefits to local communities as well as to the country as a whole.
It is essential to promote peoples' participation in the conservation and enhancement of mangrove and other coastal wetlands, coral reefs and coastal and marine biodiversity.
How can we encourage villagers to grow mangroves along the coast?
The government should promote community nurseries of mangrove species and other appropriate tree species chosen under the coastal bio-shield and agro-forestry programmes. Techniques for raising such nurseries have been standardised by MSSRF. Community nurseries can be raised under the auspices of both forest departments and panchayats. Such nurseries can be raised on the basis of a buy-back arrangement. Farm families can raise nurseries or produce seeds of crops chosen for the agro-forestry
programme.
You have made recommendations to the prime minister on rehabilitation of fishermen. What are they?
The prime minister has rightly stressed that every calamity presents an opportunity for equipping ourselves to face similar future calamities with a greater amount of confidence and competence. The government has also announced setting up of a tsunami early warning system and a national disaster management authority.
The central and state governments, national and international civil society organisations, private and public sector industry, academia, the mass media, bilateral and multilateral donors, have all come together and relief work is going on an unprecedented scale.
I have made suggestions regarding what we have to do immediately, the medium term plans and also long term plans.
The immediate need, that is between now and March is to provide water, shelter, sanitation and health care. At the same time, the revival of the livelihood of the affected persons has to be ensured by helping the fishermen, for instance, to repair their catamarans. Equally important is psychological rehabilitation to mitigate trauma.
Sea water ingression has led to soil salinity in some areas. A team consisting of representatives of agricultural universities, ICAR (Indian Council for Agricultural Research), the Central Soil Salinity Research Institute and CSIR (Council for Scientific and Industrial Research) may be set up to survey the areas, study the nature and severity of the problem and suggest remedial measures. This should be done within the next two months, so that farmers are able to resume normal farm operations without losing a crop season.
In the medium term, the next two years should see ecological rehabilitation, agronomic rehabilitation, economic rehabilitation and future preparedness for mitigation and management of such disasters. The long term (2005 to 2010) plans are, strengthening environmental defence systems, enlarging opportunities for sustainable livelihoods based on a pro-nature, pro-poor, pro-women orientation to technology development and dissemination, improving the productivity, profitability and sustainability of agriculture and fisheries.
You have suggested psychological rehabilitation as an immediate measure. How exactly can this be done?
It will be necessary to form teams of men and women psychiatrists and trauma counsellors who can cover the severely affected areas during the next few weeks to bring comfort and confidence to those who have lost their near and dear ones. Fishermen will have to be assisted in overcoming their fear of the sea. Farmers also need technical help and moral support. The professional counselling sessions could be organised by appropriate civil society organisations in association with panchayats. Those living in relief camps need particular attention. Destitute women should be rehabilitated in their own community and should not be herded in destitute homes, either old or new.
What is livelihood rehabilitation?
A special food for livelihood revival and eco-protection programme which should be initiated immediately in all the affected areas is an open-ended food for work programme. This can be sanctioned for a year.
In the first instance, it should aim to create assets for the tsunami ravaged families, and should not solely be community centred, as in the case of normal food for work programmes. The concept of work under this special programme should include items such as rebuilding houses, repairing and building fishing boats and vessels, rebuilding jetties, access roads and market yards, rebuilding schools, rebuilding health care centres, establishing day care centres and crèches for children, eco-restoration programmes like rehabilitation of mangrove wetlands and reclamation of soils inundated by sea water.
The precise priorities can be developed for each village in consultation with local panchayats and affected families. I would suggest that about 300,000 tonnes of food grains may be allotted immediately for this special programme which will allow tsunami affected families to have access to food while they are rebuilding their lives and livelihoods, as well as essential infrastructure for human resource development.
There is an urgent need for regeneration of fisheries and fostering a sustainable fisheries programme. What I mean is, designing new fishing vessels and nets so that they do not disrupt the fish lifecycle by catching young ones and also do not destroy sea grass beds, which serve as habitats for dugongs. The calamity provides an opportunity for achieving a paradigm shift from unsustainable to sustainable fisheries. Then comes the need for raising artificial coral reefs.
What exactly is raising artificial coral reefs?
Work done in the Gulf of Mannar area indicates that artificial reefs can stimulate fish breeding and revival. These can be laid and managed by fishermen's self-help groups (SHGs). NABARD can develop a special programme to promote the growth of such SHGs.
A trusteeship pattern of management of coastal bio-resources should be fostered. This will help local communities and government departments manage unique biological resources in a trusteeship mode, that is, people considering themselves as trustees of such assets with a commitment to conserve them for posterity.
A beginning has been made in the Gulf of Mannar marine biosphere reserve, but this system needs to get institutionalised all along the coast as well as in the Andaman and Nicobar and Lakshadweep groups of islands.
We see houses of fishermen very close to sea. Should this be allowed?
No. New houses should have a 500 metre restriction. The houses also should be ecologically designed. If all fisherfolk had been given housing sites on the landward side of coastal roads, the death toll as a result of the tsunami would have been much lower.
Nearly 24 years ago, Mrs Indira Gandhi took steps to ensure that no permanent construction was permitted within 500 metres of the high tide mark. We should not only strengthen this national resolve, but also develop a code of conduct for construction beyond the limit. Such a code can consist of a package of rewards for initiatives in the areas of sun-ward oriented buildings, energy efficient construction, use of wind, tidal and solar energy, rainwater harvesting, use of local construction material, effluent treatment and use of biodegradable materials.
What would you say about constructing sea walls?
The construction of permanent sea walls can be taken up only in places where there is sea erosion due to heavy anthropogenic pressures. The locations for such non-living barriers should be determined on the basis of a carefully conducted erosion-vulnerability analysis.
Based on an analysis of data over the last one hundred years, the areas prone to cyclones and other natural disasters can be mapped. Priority may be given to such areas in erecting bio-shields and in undertaking eco-restoration and erosion prevention measures.
Agricultural vulnerability to potential changes in sea level should also be mapped. This task should be taken up immediately.
In a village near Pondicherry where MSSRF has established a kiosk, there was no human loss because with the help of a loud speaker system, villagers were asked to vacate before the tsunami struck.
This is what I say is the effect of Network of Rural Knowledge Centres, RKC.The crucial importance of timely information is now widely recognised in minimising the loss of life caused by disasters like a tsunami. It is therefore essential that a network of rural knowledge centres is established all along the coast as soon as possible.
Such RKCs will use in an integrated way the Internet, community (FM) radio, cable television and the vernacular press. They will provide both generic and dynamic information and will help to disseminate locale-specific and demand driven information.
They will also serve as an integral part of the national early warning system. They can empower fishermen, farmers and other coastal inhabitants with information on their entitlements to government programmes and attend to other essential needs relating to education, health, weather and market.
RKCs should be located in a public space like a school or panchayat building, so that there is equity in access. RKCs can be managed by SHGs with support from NABARD.
Education, social mobilisation and regulation will have to become the pillars of the coastal ecological and livelihood security systems. RKCs will provide an opportunity to professionals for sustained engagement with local communities.
Main Photograph: DIBYANGSHU SARKAR/AFP/Getty Images. Dr Swaminathan's photograph: Sreeram Selvaraj
Image: Dominic Xavier