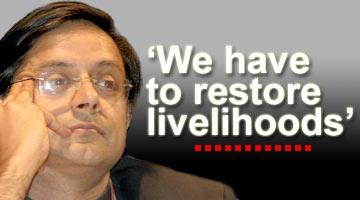 United Nations Under Secretary General for Communications and Public Information Shashi Tharoor believes that a great challenge lies ahead for India in rehabilitating the survivors of the tsunami catastrophe.
"The issue should not fade out from the minds of the people when it goes out of the headlines. There is need for a people-to-people approach to restore normalcy and help communities restore their means of livelihood. I believe India would certainly work with the international community in the long term," he said.
In Mumbai to attend the Pravasi Bharatiya Divas, Dr Tharoor spoke to Correspondent Manu A B.
What issues will the UN be focusing on in tsunami-affected countries?
It is every essential to get people back to their normal life, especially fisherfolk who not only feed themselves but entire communities. Fishing is their livelihood and it has to be restored. The focus is also on a whole range of other issues -- for instance women and children have to be protected from abuse, abduction and sexual violence. Their psychological needs need to be taken care of.
The UN is focusing on Indonesia, Sri Lanka, Thailand, Maldives and Somalia. The range of activities is vast, the immediate activity would be to provide clean water and food, sanitation, engineering assistance.
What is the UN's role in India?
At present the UN is not involved in relief work in a major way in India. What I have learnt is that immediate and effective action is taking place in India. We must congratulate the volunteers and the Indian NGOs who have risen to help the people in distress. We will be keen to provide any assistance for long-term rehabilitation in India.
'UN can't go to a country without a request'
How can the common man make a difference?
In a national calamity like this, everyone has a contribution to make in some way. If we want to make a difference, it doesn't mean that we should all turn up at the affected villages, adding strain to the services being carried out. Practical support can be given. One can provide financial support, which is always useful in every crisis. Aid can also be given for specific purposes like providing nets and equipment to help fishermen restart their life.
Images: Business gurus show the way | Amitabh among the pravasis
How can the volunteers and NGOs help?
The tsunami victims need psychiatric and psychological help as well as material aid. It is also important to be with the people and help out rather than going where the cameras are, as happens usually, and then forget the issue once the cameras and the newspapers move on to the next issue. The tragedy should not fade out from the minds of the people.
You think that more people should get more involved.
A people-to-people approach is needed. People should work within the existing governmental structure. Help is something that everyone can provide. The best thing would be to find out who is taking the lead in each community and help them. There are governmental organisations and NGOs which coordinate relief. I am not competent to judge whether the relief work is satisfactory. The most important things would be to ask the distressed people whether they have received what they need the most. In such situations, you find expectations are difficult to meet because everyone is in a state of shock by the magnitude of the disaster.
Will the UN assist India to put in place a disaster management system?
If India seeks assistance, the UN would be keen to help India. There has been some misunderstanding regarding this issue. What I understand is that for immediate relief India has the capacity and the resources. But India has not said that India does not need long-term reconstruction and rehabilitation. I believe that India would certainly work with the international community in the long term. At the same time we must not underestimate India's capability and capacity, experience and technical expertise. The right kind of things have a right time. India has asked the NRI community to provide assistance. I hope that NRIs also contribute to help the affected people in India.
What are the biggest challenges the UN faces in the relief work?
In places like Indonesia, we have seen enormous challenges especially in just getting relief. In Sumatra, harbours have been devastated by the tsunami. Roads and airstrips are also damaged. So people are suffering. So we pressed helicopters into service. These are really big challenges. In India, of course, these challenges do not exist, but there are other needs. The UN has been working intensively in these areas.
Is the UN's role becoming less significant, especially after the US attacked Iraq without UN approval?
We have to judge the UN by the organisation and its work, not by wars. There must have been a hundred wars which never came to the UN. We have a greater role to play in post-war situations, which are intended to foster better relations between countries. What is most important is to work for peace.
The prime minister said India would require FDI to the tune of $150 billion. Do you think the Pravasi Bharatiya Divas will help bring in this kind of investment?
'The triumph of Hindu resurgence would mark the end of India'
I think this forum is a good venue to share experiences and exchange ideas. Investment will be a byproduct. But I think we can't judge the conference by dollar figures.
Tell us about your new book.
It is a collection of essays entitled Bookless in Baghdad. The title essay is about the experience of visiting the book souq (bazaar) in Baghdad. At the height of sanctions in Iraq, the middle-class was selling books to survive. This is just one of the collection of 39 essays, some long, some short, all on reading and writing.
Shashi Tharoor as the next UN Secretary General?
(Laughs). I have a job to do and I am doing it.
What is your take on dual citizenship for NRIs?
It is a very good step. Though many Indians have assumed other nationalities for convenience, their heart and loyalties are very much in India and they would love to have an affirmation.
External link:
The official Shashi Tharoor web site