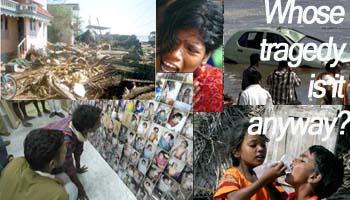 Now that we have seen the bloated bodies, heard tales of deaths and destruction, and listened to experts on television talk about tectonic plates, earthquakes and tsunamis, and how they differ from tidal waves, it may be time to reflect on the conduct of the media during the past few days.
There are two separate points briefly discussed here. One deals with the media's action immediately after something has occurred and the other with its actions a month later.

But before getting into that it will be best to make a couple of suppositions.
a. That when a calamity of this scale occurs, the least that is expected of the media -- whatever their political affiliations -- is an unbiased coverage. For a few days at least the media should remove the colour filters from its lenses.
b.That political parties across the spectrum come together and, however diverse in their stands, work together in bringing relief to the victims.
Now chew on this: The day the waves struck, Tamil Nadu Chief Minister J Jayalalithaa was in Nagapattinam, with the victims, taking stock of the situation.
The Karunanidhi-Maran family-owned Sun TV, however, chose to look north. It more or less blanked out the news, and concentrated on Dayanidhi Maran, the DMK's minister at the Centre and SUN CEO Kalanidhi Maran's brother.
There is no doubt that Maran was doing his best to alleviate the sufferings of the people. But that little bit of news happening in Nagapattinam was equally important. Perhaps more because Jayalalithaa is the representative of the people of the whole state, unlike Maran.
At the central level, our national broadcaster, Doordarshan, focussed on United Progressive Alliance chairperson Sonia Gandhi, Prime Minister Manmohan Singh and other Congress leaders.
This is not a comment on Jayalalithaa nor am I ever likely to vote for her All India Anna DMK. The AIADMK-owned Jaya TV, in fact, was no better.
This is just one example. To be fair, all media organisations lean towards one side or the other, and it is normal, something to be expected.
But it is beyond me why any self-respecting media, which professes undying concern for the people and never fails to remind everybody about its devotion to truth, would do something like this at such periods.
The point is not that 'A' leader scored more brownie points than 'B' leader, but just that the knowledge that the CM, and those at the Centre, were doing their best would have brought hope to the people.
At times like these, killing a piece of news outright, or not giving it the prominence it deserves, is as good as lying to the people.
To use the media as a tool for furtherance of political agenda is fair and legitimate. It is something that is being going on for ages. There are very few other more effective ways of taking the message to the people and mobilising them. But filtering news when thousands are dying is akin to living off them.
Some sections of the media, in this respect, did a great disservice to the people.
Will you be there when things cool down?
By now we know which media teams were the first to reach the Andaman and Nicobar Islands, Nagapattinam, Kanyakumari and all the places that the killer waves struck.
Various teams have sent us 'first pictures of the devastation' and analysed everything there is to analyse hair by hair.
We have also had journalists literally hanging from coconut trees in podunk areas telling us, in breathless tones, that everything is fine. 'There was just a hut that was demolished. No bipeds, except us, of course, have ever set foot in this area. But we just wanted to let you know that all is fine here.'
We have also been given tips on how to survive a tsunami. Sample these two from an Indian web site:
'Be aware of tsunami facts. This knowledge could save your life! Share this knowledge with your relatives and friends. It could save their lives!
'If you are at home and hear there is a tsunami warning, you should make sure your entire family is aware of the warning. Your family should evacuate your house if you live in a tsunami evacuation zone.'
Thank you very much. That was full of insight.
But wait, there is more. Consider these two facts about tsunamis that the web site thought could save lives:
'All low-lying coastal areas can be struck by tsunamis.' (Right. And we were under the impression that they could climb Mt Everest)
'Tsunamis can move faster than a person can run.' (If you ever go near a coastal area, ladies and gentlemen, please make sure that you have a scooter at hand)
Will someone shut up? Please?
These insights apart, what happens to the affected people once the cameras have been packed and tucked away?
The story has just begun. There is a lot more to say.
Relief measures are on right now. The thousands who have been rendered homeless are being provided food, temporary shelter, etc.
They will be rehabilitated only a couple of months -- at the very least -- from now.
That is the time for a lot of people, like building contractors, etc, to make money. When tenders are held at a hurry and given to the most favoured contractors.
And that is the time when the second part of this drama will evolve. But that would be tamer.
It remains to be seen how many journalists come to these areas when there is nothing more sensational to cover.
'Sir! Yes, sir, you, on the coconut tree. Would you please come at that time?'