The Justice Nanavati Commission submitted its report on the anti-Sikh riots that followed Indira Gandhi's assassination to Home Minister Shivraj Patil last week.
Poonam Muttreja is one of the founders of Dastkar, the movement of Indian craftspeople. She co-founded the Nagrik Ekta Manch to help Sikhs victimised by the 1984 violence.
This is the second of a three-part series in which she recalls one of the most shameful phases in Independent India.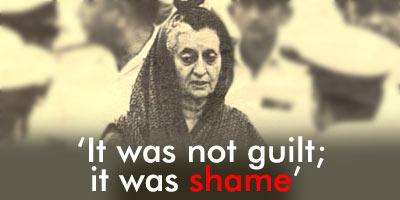 Part I: When Delhi burnt
While we watched the aftermath of the hatred and violence in Jahangirpuri, the enormity of the tragedy hit home. We spoke to people and got to know that local policemen and Congress workers from Haryana and the neighbourhood had ganged up against the Sikhs in the basti. Not all of them, but some of them.
A combination of different types of people murdered the Sikhs in Delhi in 1984. Local ruffians were involved in a big way. On the night of October 31, those ruffians instigated migrant labourers to loot Sikh homes because 'they have killed Mrs Gandhi.'
Later, the mob was provoked to kill. Poor migrants were told the Sikhs would kill them for looting their shops and homes. We were told voters lists were scrutinised overnight to identify Sikh-owned properties. Sikhs living in Hindu-owned homes were spared. Sikh-owned homes were burned.
I don't think any one organisation or group coordinated the violence. The victims told us that Congress workers were also in the rampaging crowd. We prepared a list of the goons and gave the information to human rights activists. It was included in a special report they published.
Many victims quoted in newspapers alleged that Congress leaders like H K L Bhagat, Sajjan Kumar, Lalit Maken and Jagdish Tytler were part of the crowds that stood by and watched the riots. Some said they stood alongside local ruffians. No one we talked to saw them exhorting the mobs to kill. Nevertheless, they were reported present and watching.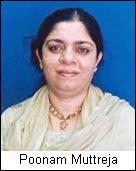 Most Sikhs were dazed. They had no inkling this kind of violence was possible. Some 3,000 people were killed. Many of them in resettlement colonies around Delhi, from where Bhagat fought the election.
The police were passive and clearly protecting the rioters. When Sikh women went to police stations to register complaints, they were asked for Rs 500 as bribe. But the issue went beyond corruption at a time of such horror and despair. The police were complicit in the violence, they supported the mob.
The catastrophe cannot be called Hindu versus Sikh riots. It was not the result of Hindutva politics. Many of the survivors spoke of how they were protected and saved by Hindu friends and neighbours. In most cases people from other areas came to murder the Sikhs. There is no truth in the version that Hindus 'spontaneously' decided to riot.
There were cases of rape too. At one place, we saw a woman sitting in front of her husband's still-bleeding dead body. Two plates of food were scattered nearby. She told us October 31 was their wedding anniversary. She had cooked paneer and kheer to celebrate. Her husband scolded her for making kheer when Mrs Gandhi had died. He didn't eat it. Within a few hours, he was killed. His widow kept telling us that Sardarjis considered Indiraji nothing less than a goddess.
There was a feeling of shame among Sikhs. Many told us they didn't approve of the assassination. We came across many Sikhs who refused to accept any charity. No Sikh came to us asking for help. We went to them, they didn't come to us. Our volunteers spoke about feeling odd to hand them anything. The Sikhs were so ashamed of accepting any help even in a crisis. It was not guilt; it was shame. And a sadness that had taken over their lives.
As a Punjabi, I identified more with Sikhs than other Indians. The riots moved me deeply. Twenty years ago, lawyers and human rights activists who could fight for justice -- as they are now doing for the victims of the Gujarat riots -- were not around so much. The Punjabi community helped the victims in economic terms and with finding jobs. In Gujarat, Muslims have even faced an economic boycott. We didn't ask any politicians, culpable as they are, for any help. We took help only from citizens. People came out to help so overwhelmingly that we got whatever was required.
Many forgot that Sikh women wear the salwaar-kameez. People mistakenly sent saris for the widows. Overnight, Fabindia's owner John Bissell got 400 salwar-kameez suits stitched for Sikh women. Hari Nanda of Escorts told us, "This reminds me of Partition. Let there be no more partition of India. Ask whatever you want but let there be no divide between Hindus and Sikhs. Heal the wounds."
We opened a refugee camp in the Shahdara locality. Around 3,000 families were brought here. Overnight, 700 people became volunteers. Most of them were young, and shocked more upon hearing from the victims about the role of police than about the rioters. Their perception of the police as protectors was shattered.
The camps faced many problems. Numerous extremists came to recruit young people. We refused to talk to them because we are anti-violence. We were pro-Sikh but we were pro-people first and against any kind of force. A suspected terrorist was in police custody and some members of the Nagrik Ekta Manch wanted to defend him. I refused to support this because I believe that helping potential or suspected terrorists requires deep engagement with the issue and I didn't know enough about the situation in Punjab.
We don't have documentary evidence but often pimps would come to the camps to take away women to work in the sex trade. Many young widows were forced to marry their husband's younger brother. In the camps, victims spoke to other victims and stories of violence were exchanged. The children became even more fearful hearing such stories over and over.
Through all this, the Sikh community's concept of biradari (bonding) worked wonderfully. The bonding survived the bloodshed. In the camps it was difficult to tell if they were real brothers or distant cousins. Those who were unhurt came out to protect and rehabilitate the others. Langarwalas (holy men who give food to the needy) arrived the very next day. They called the widows their sisters and fed them.
In all the camps victims and volunteers both felt that 'our own people did this to our own people.'
We kept telling the media, and I would like to repeat it, that these were not Hindu-Sikh riots. It was a politically motivated event. Hindu masses didn't participate in the violence. Criminals, politicians and the corrupt police did. We tried to send out this message loudly and clearly.
As told to Senior Editor Sheela Bhatt