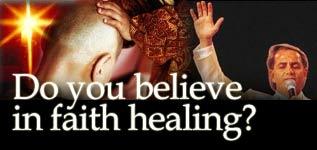 Benny Hinn's prayer for India | Violence over healing session
Religions have flourished in India's pluralistic democracy.
Freedom of professing the faith of one's choice is every Indian's fundamental right.
Hindu religious figure, who are against conversions to Christianity, have been especially vocal against faith healing, which they say is just a garb for conversion.
Also read: Everybody's Amma | A spiritual extravaganza
Last month, the anti-conversion brigade targetted Christian faith healer Benny Hinn, when he held a faith healing session in Bangalore.
The organisers of the meeting, on the other hand, quoted the freedom of religion to justify the event.
Thursday's Allahabad high court ruling says no person or organisation, citing the right to freedom of religion or otherwise, can claim Constitutional validity for faith healing.
Do you believe in faith healing? Do you think it should have sanction -- religious or legal? Pray, tell us.