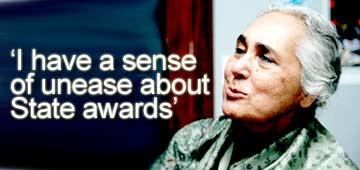 Professor Romila Thapar, one of India's finest historians, is in the news again -- for refusing the Padma Bhushan. During the reign of the National Democratic Alliance government, she was in the news for a series of run-ins with the ideologues of the Bharatiya Janata Party, the largest party in the NDA coalition. The BJP was keen to do away with her interpretation of history and present a new version -- which was questioned by most historians for its authenticity and interpretation since it sought to glorify the Hindu aspects at the cost of non-Hindu aspects. The United Progressive Alliance government put an end to the 'rewriting' of history.
Thapar's refusal of the Government of India's award had so many from the media questioning her that she made copies of her reasons for declining the award and distributed them (the statement is reproduced below as the answer to the first question).
She also agreed to give an interview to Deputy Managing Editor Amberish K Diwanji where she dwelt on the study of Indian history in the country today. This is the first of a three-part interview:
Why did you decline the Padma Bhushan?
My declining a State award is an entirely personal decision that I took 13 years ago when I was first offered the same award and which I also declined then. I decided at that time that I would only accept academic and professional awards. And because it is a personal decision, let me emphasise that it does not reflect on others who have accepted the awards, neither is it a gesture of arrogance nor of opposition to the government. I was more than delighted with the election results of 2004.
I also have a sense of unease about these awards. One of the problems is that over the years there has been a degree of slippage where State awards are being seen as government awards, in effect, government patronage. The line dividing them may be thin but has to be maintained.
The procedures for these awards should be systematised and made more transparent. We should know who is consulted when names are considered, what the procedure is in taking a decision, and who decides. If the names of the members of these committees are known, that would add to the prestige of the award. Those listed for awards should be consulted just prior to the finalisation of the list. This would save considerable embarrassment on both sides when awards are declined.
These awards are generally given to those who are already recognised. One would like to see a larger number of awards going to those who are doing valiant work in various fields and who remain unrecognised: those in rural education, health care, urban slums, and areas essential to the well-being of our society as a whole. Awards going to such people would lend far greater weight in society to the work that they are doing.
Politics and lobbying plays a part in all awards, whether academic or even the Nobel Prize. Does that take away from the award or the recipient?
State awards have become increasingly mixed up with government patronage in India. But there is a difference between State awards and professional awards. The latter are strictly for the work one has done and nothing else. Therefore, I prefer taking a professional or an academic award.  
The other point I'd like to make is that although many awards do get politicised, including professional awards, nevertheless in a professional context, a smaller group of people is involved, and professionals can critique a judgment. One can say that so-and-so doesn't deserve the award, but it is very difficult to say that in a State award, which is more extensive, has a lot of people involved in different fields, and so forth.
My decision was the same in 1992 and my reasons then were the same as they are now. I have stayed with these reasons all through my career and I have stayed with the same decision.
Moreover, in societies like ours, there isn't the same value placed on academic awards as is placed on State awards and one always likes to encourage academic and professional awards.
You had also said that in India awards are usually given to those who have already accomplished rather than to recognise emerging talent as they should. And it has always been pointed out that far too often, the Indian government recognises talent after it is recognised by an international body.
What I was trying to suggest is that awards are given to those who are already recognised. There are a large number of people who are working in unglamorous areas such as rural education, urban slums, etc. Some of them are doing valiant jobs and a lot of their credibility and respect would be increased if they were given a Padma Shri or Padma Bhushan. I think more of these persons need to be brought into the net of awards than they are at the moment. That is what I meant when I said the awards tend to be given to people who are already recognised.
International recognition does seem to be rewarded by national recognition.
Don't forget to catch the next part of Romila Thapar's eloquent interview!