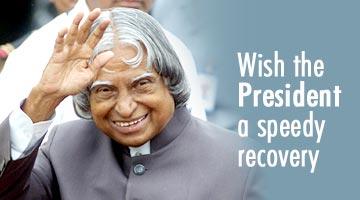 President A P J Abdul Kalam underwent treatment at the Army Hospital, Research and Referral in Delhi on Monday morning for a fracture he suffered on Sunday.
The President was walking in Rashtrapati Bhavan's Herbal Garden when he slipped and fell, dislocating his right shoulder.

"This morning, under short general anaesthesia, closed reduction of the fracture was done," the hospital's commandant said. "The President is doing fine. He will take a few days rest," he added.
We are sure you want to wish the President a speedy recovery.
Send us your message. We will make sure it reaches him.



From rediff.com archives:
President Kalam's mantra for national prosperity
'The President is not one to ask anything for himself'

Pictures:
The President and his family

Photograph: Raveendran/AFP/Getty Images