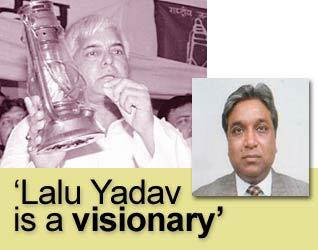 Union Minister of State (Independent charge) Premchand Gupta is Rashtriya Janata Dal chief and Union Railway Minister Lalu Prasad Yadav's confidant.
Gupta, who is from Haryana, is known as the party's money manager.
On the eve of the first round of election in Bihar, he spoke to Special Correspondent Salil Kumar.
The Lok Janshakti Party-Congress combine thinks the RJD government will be dislodged. How much of a threat is it?
There is no threat. In 2000, our position was bad. The fodder scam was on top. Laluji was in jail. He got bail a few days before the declaration of the election.
The Opposition was united against him. LJP chief Paswan, Nitish Kumar were together.
At the Centre, it was a Bharatiya Janata Party government. Atal Bihari Vajpayee was on top of the world. L K Advani was at his peak. The Congress contested all seats. It had no arrangements. We formed a government.
Compared to that, we are in a better position. We will form the government on our own.
What about the law and order situation in the state?
It is better than in many states. Refer to a question asked in the Rajya Sabha, replied to by Advani as home minister. The crime rate in Bihar is lower than in Uttar Pradesh, Maharashtra, Rajasthan or Madhya Pradesh.
There is a coordinated campaign against Bihar.
Bihar's name is being maligned by people with vested interests.
You can call up my office and get the information by fax. This is not my data. It is Union home ministry data from Advani.
Is a criminal friendly to anyone? Will he have a soft corner for anyone?
Take the kidnappings in Bihar. Where doesn't it happen? Is Rabri Devi not a mother of nine children? Is Laluji not a father of nine children?
You are a journalist. I suggest you do your homework.
Before the 2000 assembly election, there was a hue and cry about rape incidents. Whenever we have an election, or a VIP comes to Bihar, there is such propaganda.
Criminals don't have a heart. They are nobody's friends. No sensible human being will soul and heart like to keep quiet in such a situation. The Bihar government and our party cadres are concerned. Every step is being taken to ensure the children's safe return.
You are going to Patna. Talk to journalist friends and find out who was involved in the National Hydroelectric Power Corporation Limited engineers' kidnapping. Two legislators belonging to another party were involved. Find out for yourself.
The Supreme Court and high court have passed strictures against your government.
We honor the rulings and are equally concerned about this.
If the government is so concerned, why is nothing being done? Criminals run the state from jails. The high court ordered raids on jails in the state.
Visit Tihar Jail and you will know. Read the biography of that French criminal, Charles Sobhraj. He used to be entertained by his girlfriend in jail.
Because of a few people, you cannot blame the system.
Those people are in the RJD.
No.
You are saying everything is fine?
What would you say about the killing of the Telugu Desam Party legislator in Andhra Pradesh, the Bahujan Samaj Party legislator in Allahabad? The killing of Phoolan Devi next to Parliament. This is a national problem. This is a worldwide problem. Crime.
Even Parliament was attacked.
The media should not become a tool in the hands of Opposition parties. It should not play with the people's sentiments. We should sit together and find a solution.
What is happening in Bihar is happening in other states. I am not encouraging such happenings. This is an issue we should look into. Nobody should compromise with crime.
If the RJD forms the government, what will be your priority?

No ifs. We will form the government. Our priority will be an improvement in law and order, creation of massive infrastructure, job opportunities.
Doesn't the fact that you speak of these things show they are not there in Bihar? No law and order, no infrastructure, no jobs?
There is always room for improvement. We are lagging in infrastructure as the National Democratic Alliance government, in which there were 13 ministers from Bihar, was busy abusing the Bihar government and did nothing for the state.
There is a study conducted by economist Mohan Guruswamy, The Economic Strangulation of Bihar. Study the paper. Take a copy from my office.
Bihar was denied its share by the Centre.
What development has taken place after the United Progressive Alliance came to power?
We have undertaken massive developmental work.
Like?
Like an 800 km long four-lane highway, construction of a bridge on the Ganga and electrification of villages. Apart from that, 1,000 km of rural roads.
We have brought in Rs 4,000 crore of central assistance for development projects, which never happened before.
There were two flights daily, to and from Patna, when the NDA was in power. Now there are four. Mumbai is connected to Patna by a daily flight.
There are no roads in Bihar.
I have traveled by road in various states. You will see the roads in Bihar are better than any state.
Lalu Yadav had said Bihar's roads would resemble Hema Malini's cheeks.
This is nonsense. He never said that. Laluji has high regard for women. He clarified that statement. He even spoke to Hema Malini.
You are saying Lalu Yadav is a visionary?
He is! No doubt! If anyone thinks he does things for political reasons, it is not true. He is a well-wisher of the downtrodden and the have-nots.
Why is he not liked by the elite? He does not fit into their thinking.
You are seated next to Mr Paswan on this flight.
He happened to be onboard. This is a convenient flight.
There is nothing more to it?
We don't care.
Image: Rahil Sheikh