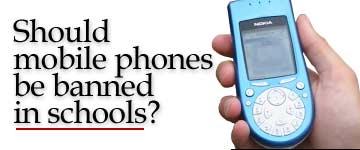 Do you buy or sell porn? Read this
Why treat kids like criminals?
The MMS clip showing two students of a Delhi school indulging in oral sex stirred up a storm and raised some uncomfortable questions recently.
Is society witnessing a degradation of values, which manifests itself in the sort of behaviour exhibited by the students in the case? Who is to blame for this? Technology? Parents?
Or should we blame it on the so-called western influence?
One basic question is: Should students carry mobile phones?
The Delhi government is of the view that students should not, and has banned them in government schools.
While schools can impose a ban, it does not prevent children from using (or misusing) them elsewhere.
Therefore the bigger question is: Should parents give their children mobile phones? 
On the one hand mobile phones enable near and dear ones be in touch whenever they went, but on the other temptations beckon juvenile users.
Talking about misuse, what is it that a mobile phone can do that a more conventional camera or videocam can't?
So, is the Delhi government order an exercise in futility? Should other states/schools emulate Delhi?
What do you think?