In 1994, expelled Bharatiya Janata Party leader Madhu Deolekar wrote an essay, saying the BJP was infected with groupism, corruption and indiscipline -- just like the Congress.
Deolekar -- who has been with the Rashtriya Swaymsevak Sangh since 1945 and was its pracharak in Kutch, Gujarat -- is what can be called a hardcore Hindutva hawk. He was a member of the Jana Sangh from 1952  and was a member of legislative council in Maharashtra from 1978 to 1988.
When the BJP was formed in 1980, he was the party's general secretary in Mumbai. With the rise of Pramod Mahajan and after the BJP's alliance with the Shiv Sena, old-timers like Deolekar became redundant for the party.
Although BJP leaders have forgotten him and dismiss his views as the voice of a frustrated old man, RSS supremo K Sudarshan still calls on Deolekar.
Recently, the RSS chief visited Deolekar's home in Khar, a western suburb of Mumbai, to consult on ways of celebrating RSS founder Madhav Sadashiv Golvalkar's centenary anniversary, which began on December 11.
Today, Deolekar is in pain because he sees the "vichar shakti [ideological strength]" behind the birth of the BJP fading before his eyes.
As India's main Opposition party celebrates 25 years of its existence, rediff.com revisits an old BJP man who is of no use to the party. Over to him: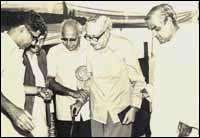 In 1980, we were all in the Janata Party. I was its public relations officer in Mumbai. On the issue of dual membership, the Jana Sangh constituent of the Janata party decided to break away.
Socialist members of the Janata Party wanted Jana Sangh members to completely disassociate themselves from the RSS. Their idea was that once the Jana Sangh severs ties with the RSS, it would also lose grassroot support and be at the mercy of socialists.
But RSS leaders, BJP leaders and workers of the Sangh Parivar -- everyone -- thought it was time to break away because the Janata Party had no future.
The ethos behind founding the BJP was the RSS ideology of Hindutva.
We had five commitments.
First, we wanted to practise politics to push for our idea of cultural nationalism, which also included the strong belief that India will not give away an inch of territory and will protect its borders. We needed unity within India to ensure that.
The RSS was never overtly religious -- it never asked its members to go to the temple or perform pujas or fast. Our idea of religion was nationalism. We believed in matrubhoomi [Motherland] and Bharatmata [Mother India].
We asked our cadres to believe in heroes of the nation like Lord Ram, Lord Krishna, Sri Aurobindo, Lokmanya Tilak and Ramakrishna Paramhans. To some extent Gandhiji -- we believed and admired Gandhi's belief in grassroot-level activism.
Second, we thought in 1980 that unlike Congress, ours would be value-based politics.
Third, we were committed to democracy.
Fourth, the BJP believed in positive secularism.
And fifth, we wanted to break caste barriers and establish samata [equality] in Indian society.
In May 1980, the BJP was born in New Delhi where its name and symbol was decided.
Shanti Bhushan and Ram Jethamalani came to attend the launch of the party. Vajpayee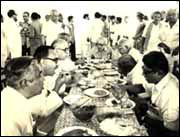 was made the working president. The lotus was selected as the party symbol because it represents Hindu ethos. It's a holy symbol. Everyone in rural India understands what it stands for. It is symbolic: It blooms in dirty waters but it is pure in itself.
Like the lotus, we thought we will be in politics but we will be not be mired in the corruption around us.
Then, in Bandra [a western suburb of Mumbai] we held an all-India conclave and we named it Samata Nagar.
About 55,000 workers came to Mumbai. They had great enthusiasm. We had five kitchens with five types of Indian cuisine. The ambience was so simple.
We spent Rs 60 lakh [Rs 6 million], most of which we collected by selling coupons.
There were very few big donators; people didn't donate much because we had broken away from the Janata Party and no one saw a future for our party. There were no Ambanis lining up to fund the party.
Vajpayee was accommodated at party leader Vedprakash Goyal's home and Advani stayed with his relative in Mumbai. Most leaders camped on the ground itself. Simple living and high thinking was our motto.
At that time too, there was a heated debate over who should be the first president of the BJP. To many of us, Vajpayee's commitment to Hindutva was a little feeble. During the Janata rule, when he was a minister, he had written an article criticizing the RSS' approach to national issues.
But there was no alternative to Vajpayee. He was the most popular face of the party and a great orator. There was a conclave within the BJP in consultation with the RSS, to decide the party president.
At that time, the core group of the newly formed BJP consisted of Vajpayee, Rajmata Vijayaraje Scindia, Advani, Kushabhau Thakre, Jaganthrao Joshi, Sunder Singh Bhandari and J P Mathur. Nanaji Deshmukh, though he was outside politics, was an important leader. Sikander Bakht was a senior leader whom the party had given a special status to.
Like Madandas Devi is the interface today between the BJP and the RSS, Bhaurao Deoras, brother of then RSS chief Balasaheb Deoras, was mediating between the newly formed party and its parent body.
J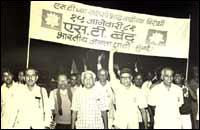 ust as Sushma Swaraj was considered for the party top post to counter Sonia Gandhi, the Rajmata was then considered for president to pit her against Indira Gandhi. But we were wary of allegations of feudalism. So, the core group dropped her name. Advani was not a big enough leader to be considered for the historic nomination.
Vajpayee got the post because he was young. His experience as foreign minister also helped. Mainly, his image outside the party turned the table in his favour.
The most special thing about the 1980 function was that eminent jurist M C Chagla attended the function. We had specially invited him to address the gathering. He made a stirring speech. He said, 'I see a miniature India gathered here.'
He predicted that the BJP would one day gain power and Vajpayee would be India's prime minister.
Don't miss the scond part of Madhu Deolekar's musings, in which he squarely blames Vajpayee and Advani for the BJP's decline.  
Also see:
The BJP turns 25