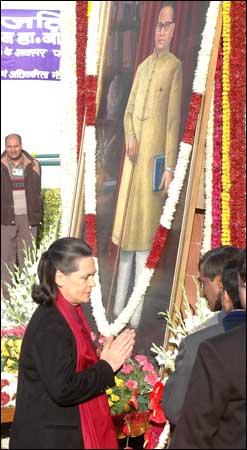 The nation today remembered Dr B R Amedkar, architect of the Indian constitution, on his 50th death anniversary.
Lok Sabha Speaker Somnath Chatterjee, UPA Chairperson Sonia Gandhi and a number of Union Ministers paid floral tributes at a function on the lawns of Parliament house this morning, an official release said.
Members of Parliament cutting across party lines and large numbers of people from different walks of life attended the Mahaparinirman function. Buddhist monks also recited from the sutras and rendered religious songs on the occasion.
Image: Sonia Gandhi at the statue of Dr B R Ambedkar on Tuesday.
Photograph: Sondeep Shankar/ Saab Pictures