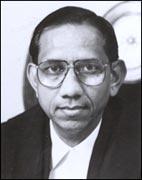 It is ironic that Chief Justice R C Lahoti, who is economic with words and inaudible while presiding over the Supreme Court, could provoke a verbal tsunami in Parliament and outside as he did last week.
The latest furore came, paradoxically, within weeks of his setting decibel levels for horns and fireworks in a public interest case mooted by the court itself.
Though the least vocal among chief justices, his term, which is coming to end in two months, was marked by intense debates over the role of the judiciary.
Judges who live in seclusion cannot normally answer criticism against them. Therefore, the Chief Justice used an ingenious way of defending his institution last week. The occasion was a routine request for adjournment of a case.
However, he turned that moment to give a stinging retort to the Attorney General, who represented the government.
The present debate came soon after the Lok Sabha Speaker assailed the court for setting the agenda for the Jharkhand assembly in electing a government. Justice Lahoti had only copied an earlier order in the Kalyan Singh capers in UP, which was not noticed then.
It was another twist of irony that when Justice Lahoti passed the same order in the Jharkhand imbroglio, it provoked loud protests from the Speaker and the MPs for invading their territory.
Another judgment of his which drew noisy reaction was the one quashing the Illegal Migrants (Determination by Tribunals) Act on migrants to Assam.
One of his earlier judgments as Chief Justice invaded the bedrooms of politicians, as it were. He upheld the Haryana rule that those who had more than two children could not contest local bodies elections. He rejected the arguments based on the right to privacy and religion.
The Chief Justice earned the eternal gratitude of devotees of the Kanchi Shankaracharya when he granted him bail, ending weeks of humiliation at the hands of the Tamil Nadu police.
Justice Lahoti's 17 years on the bench come to an end on November 1. He started his practice in Guna and became a high court judge in 1988. He joined the Supreme Court in 1998 after a stint in the Delhi high court. His 16 months in the Supreme Court has been an uneasy time for the Legislature and Executive.
Politicians have perhaps another scare waiting for them next week when he will take up the sensitive Bihar deadlock and the proposed assembly election.
With hardly 40 working days left for him to retire at 65, what more irksome orders is he going to pass? That is the question which could make you a crorepati.
Powered by