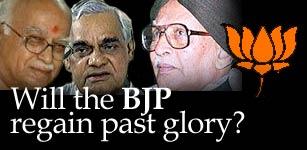 It once prided itself in being 'a party with a difference.'
But the Bharatiya Janata Party now seems to be in dangerous disarray, partly due to problems within the organisation and partly done in by the attack from the Sangh Parivar.
The latest attack on the BJP came from Rashtriya Swayamsevak Sangh chief K S Sudershan (top, right), who said party president Lal Kishenchand Advani and senior leader and former prime minister Atal Bihari Vajpayee should make way for young leaders.
This remark created a storm in BJP circles, especially since the party has all along depended upon the Sangh Parivar's large organisational network for effective functioning.
The controversy also came as a setback to efforts to rejuvenate the party after last year's Lok Sabha election defeat and the episode involving Uma Bharti, who openly revolted against the BJP leadership.
The remark from Sudarshen -- who had accused the the BJP-led National Democratic Alliance government of not adhering to Hindutva -- came despite Advani reaffirming the party's faith in Hindutva at a recent party conclave.
With the rift between the BJP and its parent organisation getting wider by the day and with party leaders unable to conceive creative ideas to revive the party, will the BJP regain its past glory? Or is it a party in terminal decline? Should Advani and Vajpayee step down and make way for younger leaders?

Tell the BJP what you think!