Ranjit Shekhar Mooshahary,
the first Bodo to become director general of the Border Security Force, is deeply agitated by the
killing
of Assistant Commander Jeevan Kumar along the Bangladesh border on the weekend.
India mute on Jeevan Kumar's slaughter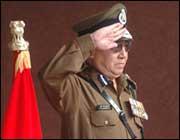 Officer Kumar, according to the director general, was shot when he went to speak to the company commander of the Bangladesh Rifles to rescue an Indian citizen who was dragged across the border.
Mooshahary says the Bangladesh Rifles must realise there is a limit to the BSF's tolerance of its misadventures.
He discusses the situation along the Bangladesh border with Special Correspondent Salil Kumar.
What happened that day?
You must have read it in the newspapers.
What is your version?
My version is the same. Bangladesh citizens trapped one of our people in their territory. First, it was the villagers. The BDR came to the picture later on.
Our company commander went there demanding that our citizen be returned. Then the Bangladesh Rifles came and there was a shooting incident.
They shot dead our company commander and one constable was injured. This, in brief, is what happened.
I don't want to go into details. Basically, it was a cruel act on the part of the BDR. They are not expected to treat a uniformed soldier like this. They are also uniformed soldiers. Our man had gone there with a very bona fide intention of getting back our citizen and he was not armed. He just wanted to talk to their company commander so that they could sort out the issue.
They could have taken them into custody. My officer would not have gone into their territory without their permission.
Whenever these things happen we hold a flag meeting. We tried to hold a flag meeting. He said I want to come and talk to the company commander but that was not made available and they started shooting. His body was found inside Bangladesh territory. You know you can't shoot a man like that.
Bangladesh Rifles lacks discipline: BSF
Why on April 16?
I don't think there is much significance in that.
Isn't it too much of a coincidence?
In 2001, it was April 17 and 18.
The timeframe is the same.
They have created the same type of problem, this firing incident. We have told them we are not going to take it lightly. The repercussions cannot be ignored.
We have lodged a protest. What after that?
We are getting stricter now. If their people stray into our territory we will take stronger action. We will not just hand them over; we will prosecute them.
So far we have been acting as a very friendly force. I don't want to escalate the tension. But if they keep persisting with their misadventure we have to say this is the limit. Beyond this we cannot tolerate. We are not a weak force. We are much stronger. If you compare the strength of each force…
It is alleged that your troopers were up to some mischief.
Anyone can make allegations. The Bangladesh media is full of such news. What designs can we have there?
I am quoting our government officials.
Tell me what can we do here.
Smuggle people for instance.
Yes, there is smuggling going on there and our men have been controlling it. As a matter of fact, along the border every month we are shooting those who are smuggling. The Indo-Bangla border is a very active border.
There is a lot of population there. The movement of human beings, movement of cattle… there are villages that are split, there are houses separated by the International Border. So there are crimes, no doubt.
Have our men been involved in such things?
Yes, we have found such instances. We have punished them. We have put them in jail. There are a number of people helping smugglers. We don't overlook our misdeeds. If any BSF personnel are found in conduct unbecoming he is removed from service. We have removed quite a number of them. We have a BSF Act. They are court-martialled.
There will always be some black sheep. In the BSF also we have some. But whenever it comes to our notice we take strong action.
In the context of this attack, did you find any BSF man whose conduct was not correct?
This is totally different. Maybe they (The BDR) had some ulterior design, though I cannot specify what that could be.
Otherwise, there was no reason to kill this man. You cannot kill an officer like this and expect us to swallow it.
What can the BSF do?
There are a number of instances where their people trespass into our areas and we will be more stringent. We will make them realise we have taken it seriously. I am not in favour of creating tension, but I have to safeguard the national interest. I also have to take care of the morale and discipline of our men.
In 2001 the BSF lost 16 men. How do you keep their morale high?
It makes my men feel very agitated, no doubt. Left to them they would really take revenge in their own way. But I, as a head of a force, cannot allow it. You know I cannot ask them to go and start beating up people in villages or start shooting the BDR.
We have got to have it in a way that is civilised. We are not going to violate any rules, but we are going to make them think that yes, we are also capable of acting.
India wants to be a superpower, and yet our troopers keep getting killed. In 2001 we all saw those photographs.
You cannot say our forces are getting killed. 2001 and now 2005 -- two incidents have taken place. You cannot say our men are getting killed all the time.
In 2003 there was some shooting along the border.
We had some exchange of fire but we did not have any killings. Since 2001 this is the first, and this time we lost only one officer.
'Only' one officer?
No, no, no. I am comparing this with 2001. I am not saying it is a lighter issue. But there is a numerical distinction. Earlier, it was 16. This time it is one. But my emphasis is it is a bad incident. It was very reprehensible. They are capable of committing this type of misadventure against our forces. That keeps us more alert.
Lastly, when will the fencing of the border conclude?
It is a difficult job because of the terrain. You know the length of the border? It is 4,097 km. Some are riverine areas, some are right through villages, some are through jungles. It takes time. We have completed around 60 per cent of fencing. This is an ongoing process. The fencing that we did earlier, there is some wear and tear. We are repairing those parts, building new fences.
Photograph: Sondeep Shankar/Saab Press