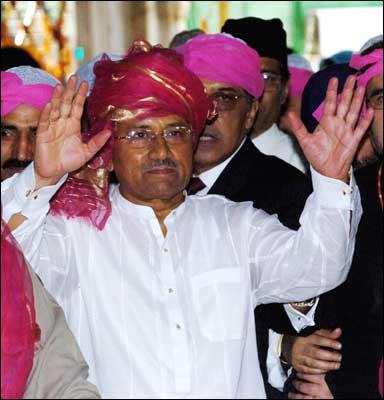 Fulfilling his long-cherished desire, Pakistan President Pervez Musharraf paid obeisance at the dargah of famous Sufi saint Khwaja Moinuddin Chisti and prayed for improvement in Indo-Pak relations and peace between the two countries.
Kicking off his three-day visit to India on Saturday, Musharraf, who could not visit the dargah in 2001 following the breakdown of the Agra Summit, along with his wife Begum Sehba and other members of the delegation spent nearly 25 minutes at the sanctum sanctorum of the dargah.
"I have brought a message of peace and friendship from Pakistan," the 61-year-old president, clad in white kurta and salwar with a red turban tied on his head, said emerging from the prayers.
"It was a moment of honour for me and my wife and other members of the delegation to pay our homage at the dargah for the first time.
Photograph: RAVEENDRAN/AFP/Getty Images