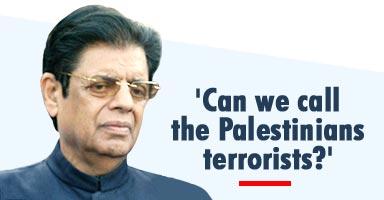 E Ahamed, minister of state for external affairs, played an important role in securing the release of three Indian truck drivers who were held hostage in Iraq.
Though this is his first stint as a minister of the Union, Ahamed has a good understanding of international politics, especially in West Asia. Now, he is in charge of the West Asia desk at the external affairs ministry. He will represent India in the UN General Assembly for the seventh time later this month.
A member of the Indian Union Muslim League, Ahamed was elected to the Lok Sabha for the fifth time from Ponnai in Kerala. He spoke to Ehtasham Khan at his South Block office in New Delhi about his meeting with Palestinian leader Yasser Arafat during his five-day visit to West Asia in September.
During his visit to Palestine, the first by an Indian leader after then home minister Lal Kishenchand Advani in 2000, Ahamed prayed at the sacred Ibrahimi mosque in al-Khalili town and at the al-Aqsa mosque in Jerusalem with Arafat. Later, the Palestine president hosted a lunch in his honour at his home in Ramallah.
What was the objective of the visit to Palestine?
India has been maintaining a very special, cordial relationship with Palestine for many decades. India was the first non-Arab country to recognise Palestine. The new government (led by the Congress) in its Common Minimum Programme mentioned categorically that India will give a new thrust to our relationship with the West Asian countries and declared support to the Palestinian people's right to land of their own. Later there was a proposal to send them (the Palestinians) 12 Tata Sumo vehicles and medicine worth Rs 1 crore.
I could not go earlier because of the hostage crisis in Iraq. So later I took these gifts with me and had a meeting with President Arafat, which was a landmark meeting. President Arafat is a household name in India and a hero. India considers him a symbol of the Palestinian cause.
On behalf of the prime minister, I handed him a letter of support and said India's support (to Palestine) will continue and we hope the Palestinian people's dreams are realised. Restriction on the movement of President Arafat is uncalled for. It will be politically counterproductive. It should be removed. Any effort to exclude him or eliminate him from the scene will only compound the difficulties.
Arafat is an elected leader of Palestine. Restriction on him is not acceptable to the people of Palestine and the international community.
We also have a healthy relationship with Israel. So what message are you giving Israel?
We are giving a message to the whole world that India will support the Palestinian cause. We urge the international community to withdraw historical injustices imposed on the people of Palestine. India will join all efforts to bring justice.
How do you call your meeting with Arafat a landmark?
Landmark because we consider our relationship as one of our declared policies. We consider that Arafat has been put to a lot of restrictions and we had to express our solidarity with him on behalf of the people of India. Mr Arafat also expressed his deep sense of gratitude to the prime minister and to the people of India and its political parties. He said India has sent a minister (to Palestine) at a crucial time of difficulty.
People ask about India's relationship with Israel. Of course, India has a diplomatic and bilateral relationship with Israel. That's a different compartment. This relationship (with Palestine) is not directed towards any third country. We will take special care to ensure that our relationship with Israel shall not have a negative impact on our relationship with Palestine.
You have been quoted in newspapers as saying that you will take this issue up with the Israeli government.
I did not say anything like that. Somebody asked me, so I said that whenever I happen to see an Israeli leader, I will definitely raise this issue. Arafat is a friend to me. He described to me the situation there with the help of maps and other documents. Even now, Muslims have a lot of difficulty in visiting the al-Aqsa mosque and Christians face problems in visiting Bethlehem and other churches.
Is your meeting going to make an impact on the politics and the situation there?
That you have to say. Why should I say?
The previous government led by the Bharatiya Janata Party had an inclination towards Israel.
I don't want to make any comment about the previous government. I am telling you what my government is doing.
After the change in government, has there been any shift in the policy of the Government of India regarding Palestine and Israel?
India's foreign policy was framed by Pandit Jawaharlal Nehru and all successive prime ministers have followed that. The policy was started by the Congress. Now that the party is in power again, it is following the same policy. What is wrong in it? If somebody made a shift, it is their own. The focus and fundamental principles of India's foreign policy were made by Jawaharlal Nehru. National concern is the basic thing.
What has India gained so far strategically from its pro-Palestine policy?
Why do you think in those terms? We have a policy and we follow that policy.
Do you believe India has benefited from that policy?
You know the history of India. India is a leader of the Non-Aligned Movement. Do you think it is only for the benefit of India? India has a commitment to the international community. Jawaharlal Nehru made India a nation, a civil society. Why do you think of it in business terms and about achieving this and that?
Five million Indians are working in Arab countries. Are Arabs allowing them to work there only for benefit? It is because of the emotional and cultural relations we have had with them.
Some people believe that Israel can be taken as a role model for its 'counter-terrorism' operations. What do you think?
I don't think Israel can be taken as a role model for counter-terrorism operations. Especially because people there are suffering so much. Moreover, can we say that the Palestinians are terrorists? India never believed that. There may be individual opinion here and there, but as a government India has always supported the Palestinian cause.
What is your observation about the situation in Palestine?
The Palestinians are going through a lot of hardship and a very difficult situation.
Apart from medical and other logistics support to Palestine, what role can India play in the Palestine-Israel conflict?
India will always help Palestinians whenever and wherever, especially in the humanitarian aspect.
You are looking after West Asia, a region which has become so volatile. Lots of Indians are living in the Gulf region. Are you concerned about it? What about their safety?
We cannot ensure safety from here. Our people have good relationships with the Arab people and the governments there. We have a historical relationship with Arabs. The governments there will take care of it. I am an optimist.
Photograph: PRAKASH SINGH/AFP/Getty Images | Headline Design: Uday Kuckian