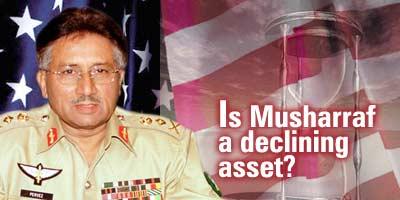 October 12 marked the five-year anniversary of General Pervez Musharraf's reign over Pakistan.
While the ups and downs of his faux democratic rule and his relations with India over these five years are fascinating studies, it is Musharraf's relationship with the US that perhaps is most compelling for Pakistan watchers and others interested in South Asia as a whole.
Musharraf's links with America actually pre-date his 1999 coup.
After the end of the Afghan war, Pakistan lost its utility as a 'frontline state' and got hit with sanctions for its nuclear programme. Institutional ties between the Pentagon and the Pakistani military were abruptly cut off.
Between 1993 and 1995, Major General Musharraf, as director general military operations of the Pakistan army, was directly involved in Pakistan's military support to the Taliban movement, which was seeking to gain control of neighbouring Afghanistan.
In October 1998, a few months after Pakistan tested nuclear weapons, then prime minister Nawaz Sharif made Musharraf the army chief, superceding many generals. It was at this point that public engagement of Musharraf by American authorities began.
General Anthony Zinni, former head of the US Central Command, told the 9/11 Commission -- 'Musharraf was someone who would actually work with the United States if he was given the chance to do so.' Clearly, the US had an early understanding that Musharraf was someone they can do business with.
Those nascent ties were put to the test when Pakistan shocked India with the Kargil incursion early 1999. As the Indian troops were reclaiming the Pakistan army posts one by one, Zinni was dispatched to Pakistan to sort things out.
In his recently released memoirs,  Zinni noted that he told Musharraf that Pakistan faced 'nuclear annihilation' if it did not back down. It was Musharraf who then convinced Nawaz Sharif to meet US President Clinton and agree to a withdrawal. This is important to note because fundamentally, Musharraf knew at this point that the US was willing to cover for his mistakes without loss of face.
Not long afterwards, Musharraf overthrew Sharif in a coup after blaming the latter for 'chickening out' in Kargil. In the immediate aftermath of Musharraf's coup, counter-terrorism became the focus of US-Pakistan ties. America was focusing on the threat from Osama Bin Laden who was being sheltered by Pakistan's Taliban proxies in Afghanistan.
Things became testy when Musharraf scuttled a plan that the Americans had negotiated with Nawaz Sharif to capture bin Laden by using retired Pakistani commandos.
If anything, President Clinton's March 2000 trip to the subcontinent made it clear as to what the Americans thought of Musharraf.
After spending five days in India, Clinton went to Pakistan, made sure that he wasn't photographed with Musharraf and left after delivering a stern speech on Pakistani television, warning Pakistanis of the dangers of sponsoring terrorism.
The fateful events of September 11, 2001 changed all this.
Soon after the attacks, the Americans realised that they needed Pakistan's help if they were to bring bin Laden and the Taliban to justice. Once again, it was another general, US Secretary of State Colin Powell, who made the fateful call to Musharraf with a list of US demands.
Musharraf quickly acquiesced to all of them. Overnight, 'rogue' General Musharraf turned into a statesman.
From Musharraf's viewpoint, he can legitimately crow about his ability to 'game' the Americans since 9/11.
While he has been forced to act in the tribal areas or arrest the occasional Al Qaeda bigwig from Pakistani cities, the infrastructure of groups like Lashkar-e-Tayiba and Jaish-e-Mohammad remain largely intact. Taliban remnants still threaten Afghanistan from bases in Pakistan. Musharraf has also been able to calibrate the infiltration into Jammu and Kashmir despite repeated promises to end the flow. And who can ignore the free pass that Musharraf has received on the nuclear proliferation front?
The Americans also gave Musharraf a long rope when it came to his internal shenanigans and patently bad-faith attempts at 'guided democracy.'
They glossed over his fraudulent referendum and a flawed 2002 parliamentary elections, when Musharraf engineered the rise of the MMA radicals. Since then, Musharraf has successfully used the beards to play upon Western fears of an Islamist takeover in Pakistan.
With the US conferring the Major Non-NATO Ally status and recent reports that Pakistan could soon get major weapons systems including the elusive F-16 fighters, Musharraf can definitely feel that he has milked the war on terror for all its worth.
Hamid Mir on the US Pak Alliance 
But it has not been a one-way flow.
Soon after 9/11, Musharraf acquiesced to American demands that the FBI and other US lettered agencies be allowed to operate within Pakistan.
In addition, Musharraf has allowed the US to install the PISCES system to monitor people at up to 18 entry and exit points in Pakistan. This program began as early as November 2001.
The US treasury department can now track most of Pakistan's financial transactions and a US 'Document Exploitation Group' monitors paper, electronic and telephonic communications in and out of Pakistan.
With the threat of a container bound nuclear device being bandied about, Musharraf has countenanced US monitoring of Pakistan's ports with intrusive systems.
Most importantly, Musharraf has gone farther than his predecessors in allowing close relations between the Pakistan army and the US military. These ties are invaluable to the Americans because they can use them to cultivate assets to be used at a later date.
Musharraf himself could be one such asset.
These ties, combined with the five American military bases in Pakistan, make it clear that Musharraf has gone to unprecedented lengths to barter Pakistan's sovereignty in return for diplomatic standing and American aid.
But the key to the American inroads into Pakistan has been their awareness of Musharraf's redlines and their reluctance to cross them. The Americans have also taken care to provide plausible deniability for Musharraf's concessions and have taken pains not to publicly harm his 'honour and dignity.'
In short, it can be argued that Musharraf is now at the pinnacle of his power both within Pakistan as well as his ties with America.
He has once again obtained a green light from the US for his continuing as army chief while being President of Pakistan. He is being touted as a spokesman for 'enlightened moderation' in the Islamic world, despite his double game on jihadi terrorism.
But the bad thing about being on top is that he will eventually have to come down hard.
As the US grip over Pakistan grows tighter, Musharraf will become more and more dispensable to American policymakers. And events, such as another 9/11-type attack, could alter carefully laid out plans.
One Western analyst recently told this author that US-Pakistan ties since 9/11 could be compared to a juggling act between Musharraf and the US. Both think they know the other's intentions and both believe they control the game. As time passes however, someone is likely to get exhausted and drop the ball.
The problem is that while the jugglers focused on getting one past the other, the ball has quietly morphed into a chainsaw.
Whoever drops it could be in for a nasty surprise.
In this series so far:
Musharraf and the ghost of Zia
Musharraf's credibility factor
Slideshow: Five years of Musharraf
Kaushik Kapisthalam is a US-based South Asia analyst. 
Photograph: Visual News/Getty Images
Image: Uday Kuckian